Dalai Lama Moves Thousands At Ceremony
September 1st 2009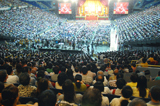 Exiled Tibetan leader the Dalai Lama shares his thoughts at a ceremony to comfort victims of Typhoon Morakot in Kaohsiung yesterday.
PHOTO: PATRICK LIN, AFP

Kaohsiung, Taiwan, 1 September 2009 (By Loa Iok-sin and Shih Hsiu-chuan, Taiepi Times) - More than 17,000 people from across the country packed the Kaohsiung Arena yesterday morning as the Dalai Lama held a two-hour prayer ceremony for the victims of Typhoon Morakot.
Although the ceremony officially started at 9:30am, many people began lining up on Monday night and by 9am the stadium was packed.
Admission to the event was on first-come-first-serve basis beginning at 7:30am.
Aside from locals, hundreds of people arrived from Taipei via charter bus at about 6am.
Awaiting the spiritual leader's arrival, members of the audience chanted om mani padme hum