New Delhi, India - When His Holiness the Dalai Lama reached the conference hall this morning, Geshé Lobsang Tenzin Negi greeted him and asked whether he had slept well. Turning to the audience, he explained that when they were encouraged to develop the SEE Learning framework in 2015, the team were nervous. However, His Holiness's vision was so far-reaching that everyone they reached out to for help was completely supportive.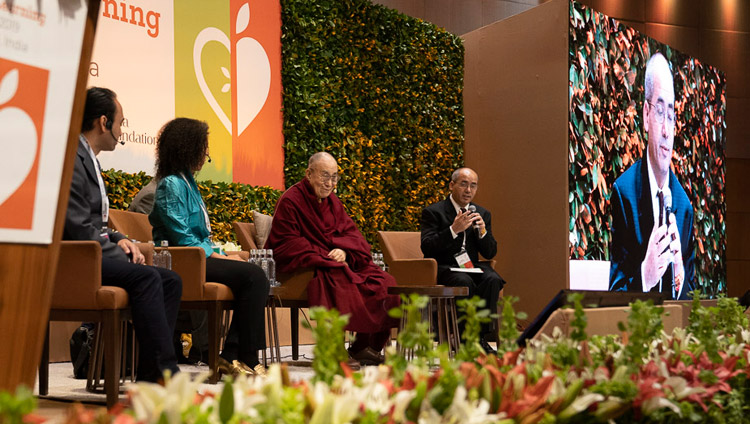 In 2017, they began to realise that they couldn't travel to all the places where training was needed. This is what prompted the setting up of an online platform to make SEE Learning materials available to anyone, anywhere in the world. It can also be used to train teachers. Negi explained, "This is a new program with a variety of benefits, but it still needs to be tested. The online platform allows for this."
Brendan Ozawa-de Silva reported that they had to use technology to reach as many people as possible. It allows for online training, provides a solution to all sorts of problems and can fulfil high demand. A workshop is held, people start using the program and after six months are looking for guidance about what to do next—the online platform can help them.
Dr Tyralynn Frazier stated that an important aim was to prepare educators and support education. With the first module users get initial access. They have to register and complete the consent form. They are requested to contribute to research. Module 2 is about empowering students. Module 3 brings educators into the framework and the meaning of awareness, compassion an engagement. Module 4 is about understanding the curriculum. Module 5 deals with fostering capabilities in students, while module 6 deals with fostering capabilities in the teacher. Module 7 is called 'embarking on a journey' and 'my plan'. Once these are all complete a user can download the whole program and when they finish they are provided with certification.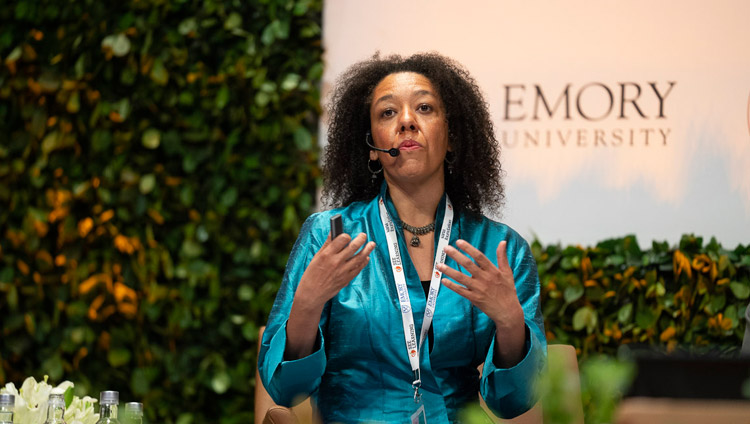 His Holiness expressed appreciation, but had no questions to ask.
Before inviting His Holiness to give the keynote address, Dr Gary Hauk offered some introductory background. He explained that Emory University was founded nearly 200 years ago by followers of John Wesley who sought to broaden their experience through an education of the mind and heart. In 1987, His Holiness made his first visit at the invitation of Prof John Fenton. When he returned in 1995, he came to teach 4000. Hauk was part of a delegation who went to meet His Holiness in his hotel to propose a partnership. He replied, "Let's make a start and see where it goes." Geshé Lobsang Tenzin Negi has been a driving force in that partnership since then.
It happened that by then Prof John Fenton was in hospital dying of leukaemia. He could not attend His Holiness's teachings. However, His Holiness visited him and took the dying man in his arms. Prof Fenton later told his wife this was the high point of his life.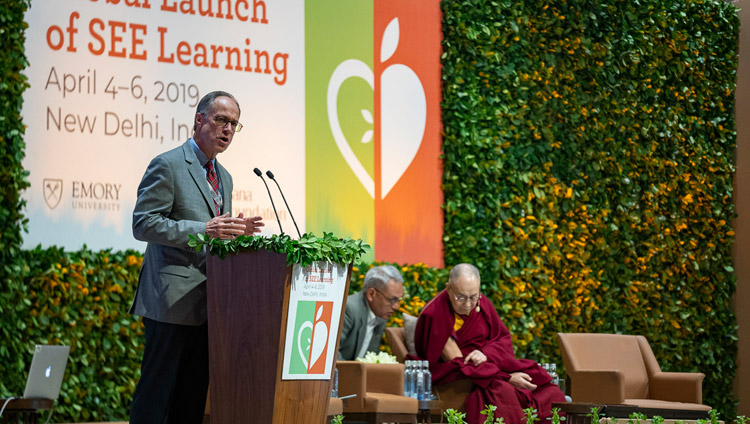 His Holiness has returned to Emory again and again encouraging his friends to use knowledge to the benefit of humanity.
"Dear brothers and sisters," His Holiness began, "as I mentioned earlier, I'm impressed and moved by the number of people and institutions who are showing interest in this exploration of human nature—it's an encouraging sign.
"In 1959, we became refugees, but along with that also came new opportunities and meetings with people who offered new experiences. In 1973, as I was about to set off to visit Europe for the first time, the BBC correspondent Mark Tully asked me why I wanted to go and I told him because I consider myself a citizen of the world.
"In Europe I was able to see what a highly developed society looked like. I saw that there were outward signs of success, but also indications of internal stress and unhappiness. I suggested that what was needed was a sense of global responsibility, a need to think about others' well-being. A self-centred attitude just brings worry and anxiety. I pointed out that we are all part of the 7 billion human beings and if they are happy we'll all be happy.
"These days, when we watch the television news, we see suffering and violence. We see others facing unnecessary difficulties and feel distress. How can you enjoy a meal, if the person next to you is starving? It makes me wonder what went wrong, what's the cause of these circumstances and it seems that it's because we lack a sense of global responsibility, we don't think about the oneness of all human beings.
"Time is always moving on; nothing can stop it. We can't change the past, but we can shape the future. The more compassionate you are, the more you will find inner peace. However, education systems today tend not to adequately enhance basic human nature. Nevertheless, education is a key factor in creating a better future.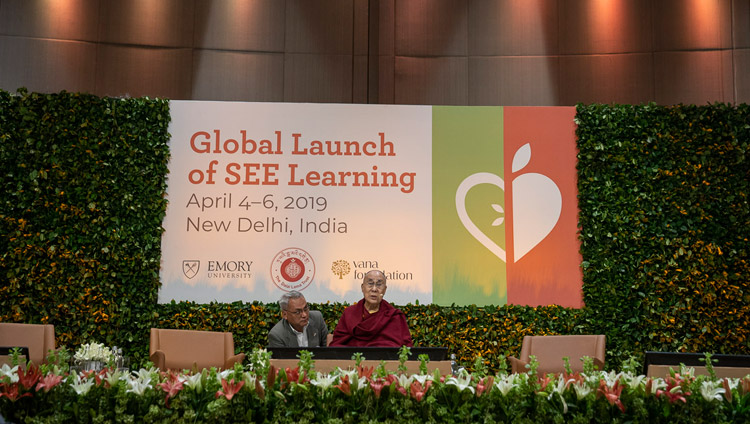 The 20th century, with its killing and violence, has gone, but we can still learn from it. It was a time when people placed too much emphasis on violence and the use of force, squandering time and money on developing weapons. However, violence will never solve problems. While external disarmament is necessary, it's internal disarmament that is crucial. Anger is of no use; it's only detrimental. The 21st century can become a more peaceful era if we adopt a realistic approach. But if it is to be achieved, we need to make an effort now."
As he answered questions from the audience, His Holiness recommended reassessing education from kindergarten to university level. He suggested that rather than feel sad about what's happening, it's more effective to take a wider perspective and seek ways to bring about change. In the present circumstances, when people follow a multitude of religions and none, it's better to take a secular approach. The aim should be to bring about peace of mind.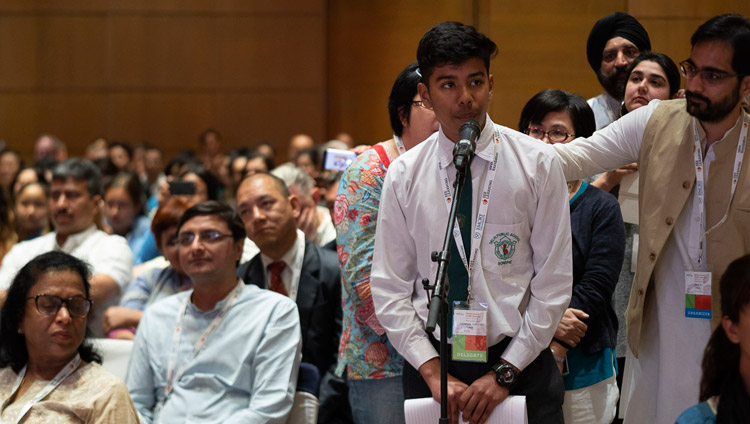 The second part of the session involved a panel discussion about promoting the education of heart and mind. It was preceded by a video message from Linda Lantieri. She declared that SEE Learning will teach the children of the world. It will train their hearts and minds with attention training and systematic thinking grounded in ethics.
She told the story of a 10 year old boy in Louisiana who was one of a group who had all seen someone killed by gunfire. She asked how the new way thinking would affect them and he lit up, telling her, "Pretty soon we'll be the grown-ups and we'll make things different."
The panel consisted of Indian industrialist and philanthropist Ajay Piramal, Russian Professor of Ethics Ruben Apressyan and Mexican director of Centro Fox Luis Cabrera. Their conversation was moderated by Dr Kimberly Schonert-Reichl.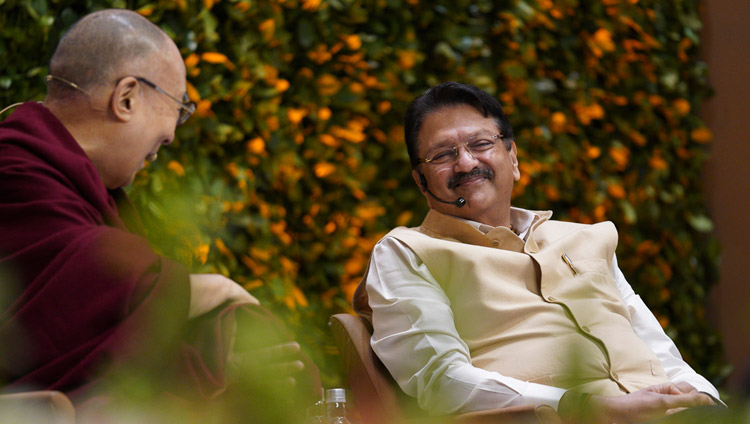 Piramal began with the Indian salutation, "Namaste", which he explained as token of respect for others and their values. He said that in his work to improve education he believes that people are good and want to do good. He feels that true happiness comes from 'seva', serving others. He mentioned a young engineering graduate who had come to work for him who was teased about his need for air-conditioning and the use of a car. It wasn't until he experienced for himself how those who have the least were still willing to share what they had with him that he changed.
Apressyan emphasised the need to link abstract ethics with emotional experience in practice. Cabrera talked about exponential problems regarding water, pollution, violence, global warming and garbage and the need to find solutions to them. He expressed pleasure at being able to add SEE Learning to work already being done to create new leadership and sustainable habits.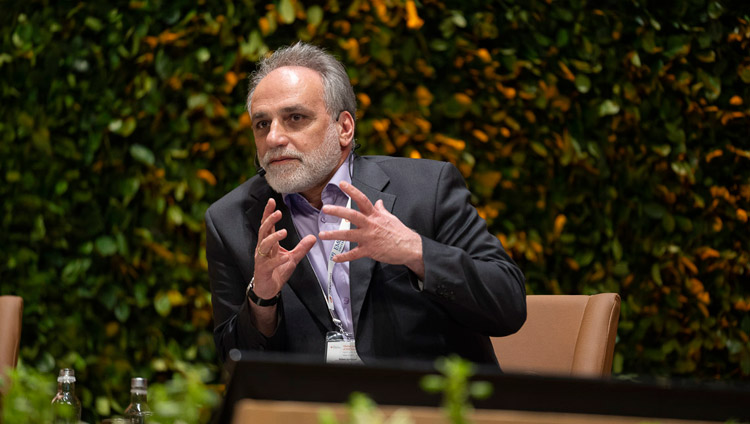 Schonert-Reichl asked why we can't just do what needs to be done. Piramal replied that more and more like-minded people needed to get together. Apressyan expressed a need to bring the values of tolerance and non-violence to children. He remarked that the program encourages self-regulation, but asked what about mutual regulation and the regulation of conflict. Cabrera felt that it was important for schools to understand what people like him are trying to do. The trouble is that by helping some but not others, the gap between them continues to grow.
Cabrera revealed a faith that today's children will be more inclined to focus on compassion and the well-being of the world as a result of programs like SEE Learning. Piramal asserted that without a robust business for support you can't do good. Apressyan too hoped that children who experience SEE Learning will be able to establish a new world.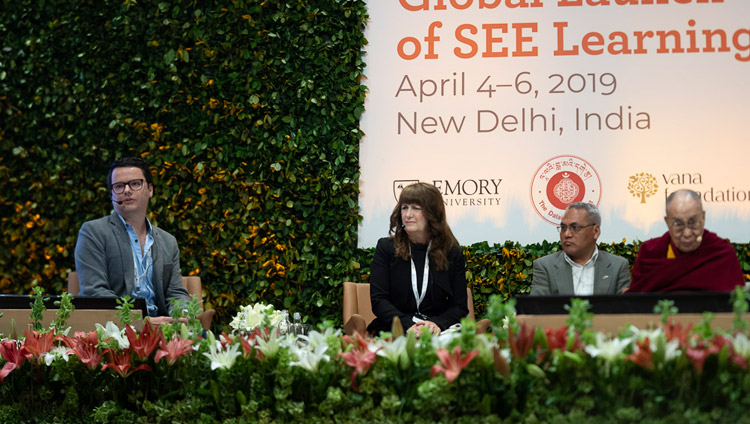 To build a better world Cabrera stated that if something doesn't work, you need to change it. Piramal quoted Swami Vivekananda's advice that if he was given 1000 children he would make a different India. Apressyan acknowledged that children need to be taught and that SEE Learning will make a significant contribution to that need.
His Holiness added, "If things go on as they have before it will lead to big problems. However, if something can be changed, there's no need to be sad about it, it just needs to be changed. If it can't be changed, being sad about that is of no use. I believe things can change, that 7 billion human beings can become more compassionate and peace-loving. However, prayers won't be very effective, there's a need to take action with a clear motivation. What's important is to examine the benefits or drawbacks of what you want to do. Understanding the advantages acts as an inspiration to carry it out.
"I believe that if we make the effort, we can make progress. However, global warming is a real threat with consequences beyond our control. Therefore, while we are alive, it's better to try to live happily. Killing others for mere short term gain is really terrible. The situation we're in is serious. It would be better to live out the time we've got happily."
Once again His Holiness ate lunch with the panellists and invited guests. Tomorrow, after a short morning program, he will return to Dharamsala.