Sydney, Australia, 4 December 2009 (phayul.com) - Australia's new federal Opposition leader Tony Abbot has irked the Chinese authorities by meeting the visiting exiled Tibetan leader His Holiness the Dalai Lama in Sydney on Thursday.
This he did in his first foreign policy act as Opposition Leader, according to Sydney Morning Herald.
The staunched Catholic enjoyed an audience with His Holiness the Dalai Lama and reportedly talked about China, Tibet, India and refugees.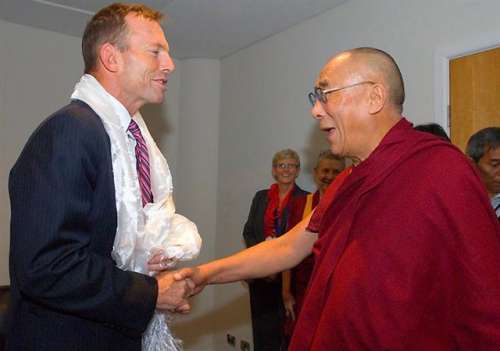 His Holiness meets Federal Opposition Leader Tony Abbott in Sydney, (photo: Rusty Stewart/ATC)
"It has been good for me to learn from his Holiness who has many decades of experience in these matters. I've had three days as an opposition leader," Abbot was quoted as saying Radio Australia later during a press conference with the Tibetan leader.
Mr Abbot also recalled John Howard had met the Dalai Lama, and said he understood why people were disappointed the current Prime Minister Kevin Rudd would not do the same.
"I understand the sensitivities, the diplomatic sensitivities in these areas and there are things which opposition leaders can do which Prime Ministers find more difficult," he said.
"But certainly prime minister Howard found the time to meet with His Holiness when he was prime minister and I think it is, I can understand why people are a little disappointed that Prime Minister Rudd can't do the same," he added.
Mr Rudd has met the exiled Tibetan leader several times before but has declined to do so on this visit.
A spokesman for the Chinese embassy was unimpressed with Mr Abbott's decision to meet the Dalai Lama in Sydney yesterday: "We are firmly opposed to Dalai's visit for engaging in separatist activities. This position is consistent and clear."
A spokeswoman for Mr Abbott said the Opposition Leader was "a spiritual person" and had long admired the Dalai Lama.
The Dalai Lama expressed his happiness with meeting Mr Abbott, saying that different views and political parties were necessary to democracy, something he said was important to global humanity.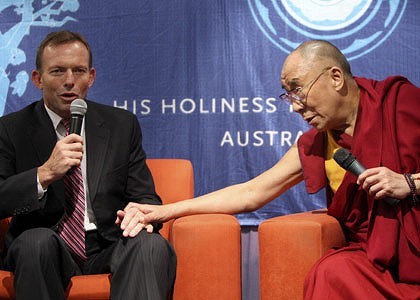 Australian federal Opposition Leader with the Dalai Lama during a press conference in Sydney, Thursday, December 3, 2009. (Photo: Steven Siewert/Sydney Morning Herald)
"I hope, your holiness, that all who meet with me will be equally happy," Mr Abbott said.
The Dalai Lama held Mr Abbott's hand many times during the meeting, stroking his chest as he gave him a white shawl symbolising motivation and gentle behaviour.
The Dalai Lama also thanked Australia for accepting Tibetan refugees seeking asylum from Chinese rule.
It is Dalai Lama's third visit to Australia in three years. A Government source reportedly said the Chinese grew tetchy each time the Tibetan leader visited.
Mr Rudd's office has rejected the assertion that the PM's decision not to meet the Dalai Lama this visit was motivated by a fear of upsetting China.
The Greens leader, Bob Brown, has said Mr Rudd should have a meeting.
According to media reports, senior Government representatives will, however, meet the Dalai Lama this visit.
Relations between Canberra and Beijing has been fractious over the past year but is on the mend to the extent free trade agreement talks between the two nations will resume in February.
When asked about if he was concerned about the Liberal Party's scepticism on climate change, the Dalai Lama responded saying that he respected the democracy of different opinions.
"I always admire democracy, so freedom of expression. So they express different view, I welcome," the Dalai Lama said, slapping Mr Abbott playfully on the hand.