Date / Event (Tibetan Calendar Date)
17 December 1933 / Thirteenth Dalai Lama Passes Away in Lhasa at the age of 57 (Water-Bird Year, 10th month, 30th day)
6 July 1935 / Born in Taktser, Amdo, Tibet (Wood-Pig Year, 5th month, 5th day)
July 1939 / Departs Amdo for three-month journey to Lhasa
1939 / Public Declaration of the Official Recognition of the Fourteenth Dalai Lama near town of Bumchen
8 October 1939 / Enters Lhasa after three-month journey from Amdo (Earth-Hare Year, 8th month, 25th day)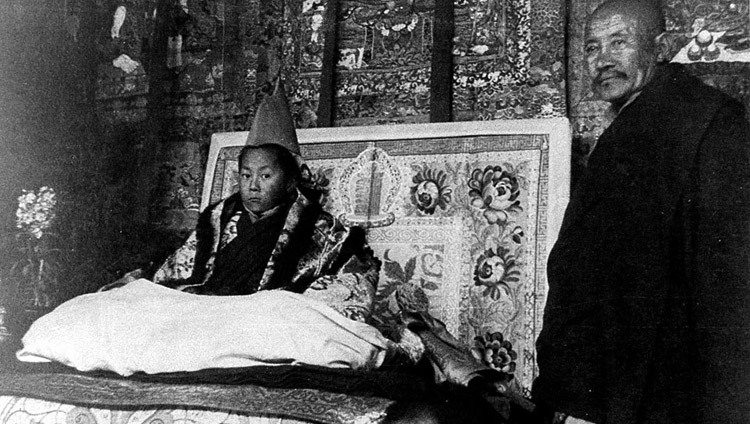 22 February 1940 / Enthronement Ceremony (Iron-Dragon Year, 1st month, 14th day)
1940 / Begins monastic education at the age of five
1942 / Receives Vows of Novice Monk from Taktra Rinpoche (1st month, 10th day)
17 November 1950 / Assumes full temporal (political) power after China's invasion of Tibet in 1949 (Iron-Tiger Year, 10th month, 11th day)
16 December 1950 / Departs Lhasa for Dromo because of Chinese threat
January 1951 to July 1951 / Resides in Dromo (Yatung)
23 May 1951 / 17-Point Agreement signed by Tibetan delegation in Peking under duress
16 July 1951 / Chinese delegation led by General Chiang Chin-wu, newly appointed Commissioner and Administrator of Civil and Military Affairs of Tibet, meets with His Holiness in Dromo (Yatung)
24 July 1951 / Departs Dromo (Yatung) for Lhasa (Iron-Hare Year, 5th month, 17th day)
17 August 1951 / Arrives Lhasa from Dromo (Iron-Hare Year, 6th month, 13th day)
1954 / Receives Gelong Ordination from Ling Rinpoche (Wood-Horse Year, 1st month, 15th day)
1954 / Confers 1st Kalachakra Initiation in Norbulingka Palace, Lhasa.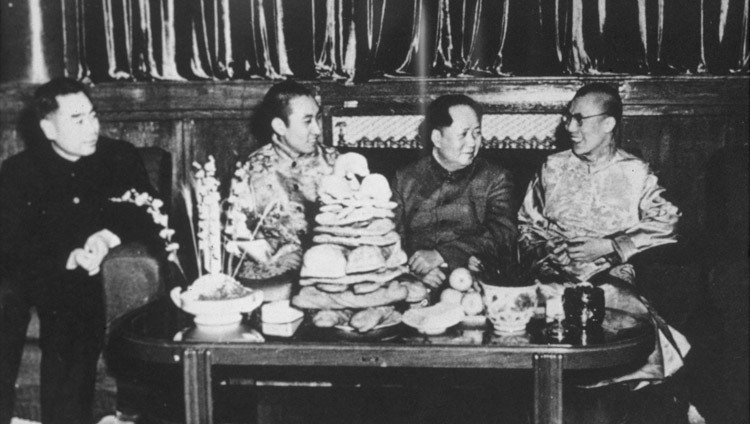 July 1954 to June 1955 / Visits China for peace talks and meets with Mao Zedong and other Chinese leaders, including Chou En-Lai, Chu Teh and Deng Xiaoping
November 1956 to March 1957 / Visits India to participate in 2500th Buddha Jayanti celebrations
February 1959 / Receives Geshe Lharampa Degree during Monlam Ceremonies in Lhasa (Earth-Pig Year, 1st month, 13th day)
10 March 1959 / Tens of thousands of Tibetans gathered in front of Norbulingka Palace, Lhasa to prevent His Holiness from going to a performance at the Chinese Army Camp in Lhasa. Tibetan People's Uprising begins in Lhasa.
15 March 1959 / Artillery Shells fired from Chinese troops land outside Norbulingka Palace
17 March 1959 / Escapes at night from Norbulingka Palace in Lhasa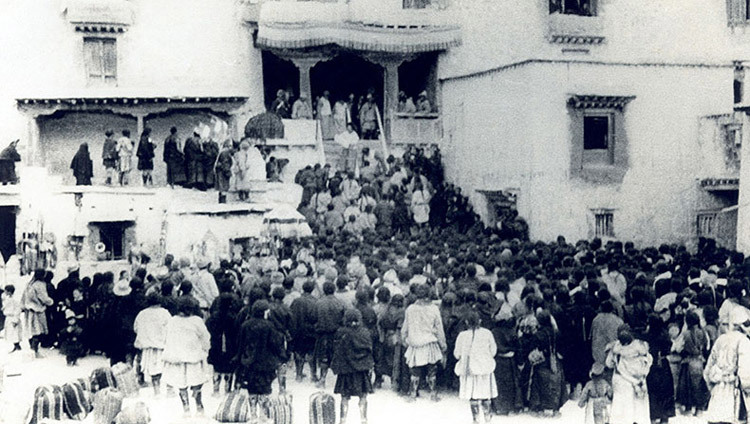 March 1959 / Tibetan Government formally reestablished at Lhuntse Dzong. 17-Point Agreement formally repudiated by Tibetan Government
.
31 March 1959 / Enters India from Tibet after a 14-day harrowing escape
18 April 1959 / Hold international press conference and formally repudiates the 17-Point Agreement
20 April 1959 / Arrives Mussoorie and resides at Birla House
30 April 1960 / Arrives in Dharamsala to take up residence at Swarg Ashram
1963 / Presents a draft democratic constitution for Tibet. First exile Tibetan Parliament (Assembly of Tibetan People's Deputies) established in Dharamsala.
1967 / First visits abroad (since coming into exile) to Japan and Thailand
1968 / Moves residence from Swarg Ashram to present day Thekchen Choeling (Byrne Estate)
September to November 1973 / First visit to the West (Italy, Switzerland, The Netherlands, Belgium, Ireland, Norway, Sweden, Denmark, UK, West Germany & Austria)
1979 / First contact with the Government of the People's Republic of China established since coming into exile in 1959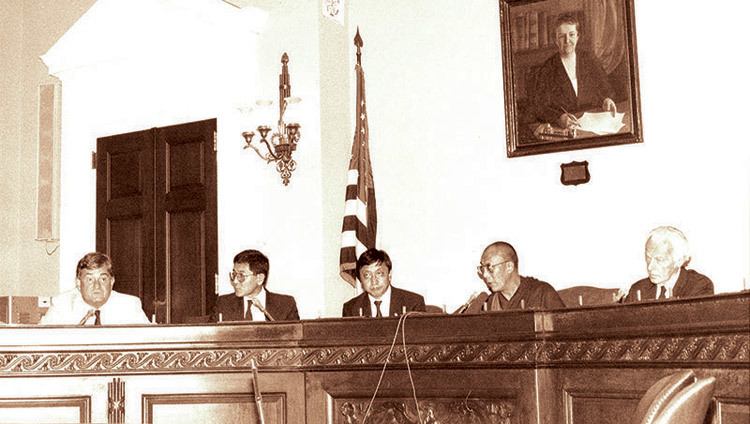 21 September 1987 / Delivers historic Five Point Peace Plan for Tibet in Washington, D.C. to members of the U.S. Congress
June 1988 / Delivers historic Strasbourg Proposal for Tibet in Strasbourg, France to members of the European Parliament
10 December 1989 / Awarded the 1989 Nobel Prize for Peace in Oslo, Norway
1992 / Initiates a number of additional major democratic steps, including the direct elections of Kalons (Ministers) by the Assembly of Tibetan People's Deputies and the establishment of a judiciary branch. Previously Kalons appointed directly by His Holiness.
2001 / First direct democratic elections held by the Tibetan people for the post of Kalon Tripa (Senior Minister) in the history of Tibet
March & May 2011 / On March 14 His Holiness the Dalai Lama sends a letter to the Assembly of Tibetan People's Deputies (Tibetan Parliament in exile) requesting them to devolve his temporal power. On May 29 His Holiness signs into law the formal transfer of his temporal power to the democratically elected leader. This brings to an end the 368-year old tradition of the Dalai Lamas being both spiritual and temporal head of Tibet.