Hobart, Australia, 8 December 2009 (ABC News) - The Dalai Lama has used a visit to Tasmania to urge governments to focus more on climate change action and less on economic gain.

The Tibetan spiritual leader visited Hobart today as part of his Australian tour, speaking in front of thousands at a public event.

He urged people to concentrate less on accumulating wealth and material items and more on being compassionate.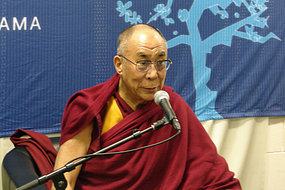 The Dalai Lama faces a press conference in Hobart on his Australian tour. (ABC News)
The Dalai Lama has dubbed the 21st century, the Century of Peace, but also urged world governments to take climate change seriously.
"Today I think government take more serious ecology particularly now global warming actually now we are experiencing."
The spiritual leader also called on governments to consider more innovative approaches to dealing with climate change.