Gulbarga, Karnataka, India, 20 December 2009 (Deccan Herald) - Buddhist spiritual leader and Nobel peace laureate the Dalai Lama has underlined the need for developing the Buddha Vihara constructed here in to a centre of higher learning in Buddhism instead of remaining a religious centre.
Delivering a religious discourse on 'The Four Noble Truths of Buddhism' at the Buddha Vihara organized by the Buddha Vihara Trust here on Saturday, the Dalai Lama had full praise for the construction of a marvelous Vihara and lauded the senior leader and Union Labour and Employment Minister Mallikarjun Kharge for initiating a lead for the construction of the rare structure. Addressing the gathering as 'spiritual brothers and sisters' he said that he was very happy to be at the Buddha Vihara for the second time saying he was very much impressed over the structure. "It should not remain a mere Buddhist temple but should transform into a learning centre," the Dalai Lama said.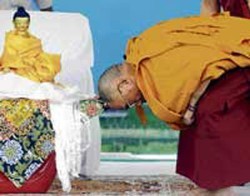 His Holiness the Dalai Lama prostrates in front of a statue of Buddha at the Buddha Vihara in Gulbarga, Karnataka. Deccan Herald photo.

The Dalai Lama said that during his first visit in January, he could not deliver discourses and had expressed his desire to come over again to deliver discourses. He thanked Mr. Kharge and the Buddha Vihara Trust for providing him an opportunity to share his thoughts with the people of Gulbarga. He pointed out that over 100 volumes of Gautam Buddha's preaching and over 200 volumes of Buddha's texts by masters such as Nagarjuna, Aryadeva, and over 300 volumes of other Buddhist literatures in Pali, Sanskrit and Nepali languages have already been published. There was a dire need to study all of them carefully and dwell into research.
The Dalai Lama said that utilization of human intelligence and wisdom for attaining the purity of mind and for one's advancement was very important in Buddhism. He made it clear that his discourses are not mere ritualistic nor religious but the ocassion should be treated as an educational seminar. The Dalai Lama at the end of the discourse gave opportunity to the audience to ask questions. He replied to all the questions and invited even arguments on important issues.
The Dalai Lama said that the distinction of Buddhism from other religious cults was that it does not believe in atma. This similarity could also be found in Jainsim. He said that there are certain cases of rebirth which he himself had come across and it was for the science to investigate these cases. He also asserted that the big bang theory of scientists goes very well with Buddhist phitlosophy as it doesn't believe in the theory of creation of something by someone.
Good number of devotees had turned up for the discourses which were heard attentively. All the devotees except a very few were seated on the floor. The Dalai Lama's discourse in English was translated for some time into Kannada and half way through it was done away with. However, for many in the audience it was difficult to follow what His Holiness was saying.
The Dalai Lama felicitated Mallikarjun Kharge, his wife Radhabai Kharge, and two sons Rahul and Priyank.