Melbourne, Australia, 9 December 2009 (tibet.net) - His Holiness the Dalai Lama has begun the final leg of his Australian visit, heading to Melbourne in the southern state of Victoria, where he is attending the Parliament of the World's Religions and celebrating the 20th Anniversary of his Nobel Peace Prize.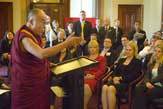 His Holiness addresses members of the Victorian State Parliament
This morning His Holiness the Dalai Lama received a warm welcome from over fifty members of the Victorian State Parliament
Speaking at a function inside Parliament House, His Holiness spoke about the value of democracy and the importance of respect for different religious and cultural traditions, before taking several questions. The function was organized by the Victorian Parliamentary Friends of Tibet.
Following his meeting with MPs His Holiness met with a group of schoolchildren from Marysville, the town worst affected by devastating bushfires that ravaged rural Victoria earlier this year.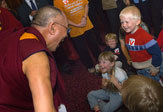 His Holiness meets with
children from Marysville, a town ravaged by bush fires earlier this year
In the afternoon His Holiness headed to the Parliament of the World's Religions, the world's largest interfaith gathering. After a meeting with twenty-five youth representatives, His Holiness gave the keynote address at the closing plenary of the conference.
Over five days the eight thousand delegates from around the world have discussed a wide variety of topics including environmental responsibility, youth empowerment and, of course, interfaith cooperation. His Holiness urged the delegates not to leave their new ideas and understanding at the conference but to put them into action.
Tomorrow is the Twentieth Anniversary of the Dalai Lama's Nobel Peace Prize. His Holiness will begin the day at a breakfast function organized by Australia Tibet Council and Amnesty International.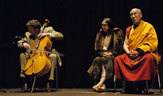 His Holiness at the closing plenary of the Parliament of the World's Religions