Passau, Germany, 21 September, 2010 - "China must not miss this opportunity to talk to the Dalai Lama to resolve the Tibetan issue," said Mr. Roland Koch, the former Minister President of the German state of Hesse. "I believe it is in the Chinese own interest to make peace with the Dalai Lama."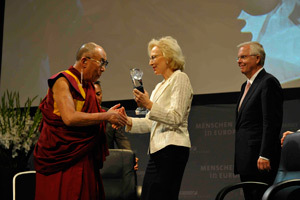 Mrs. Angelika Diekmann presents His Holiness the Dalai Lama with the Menschen-in-Europa Award.
Mr. Koch made these remarks during the 2010 Menschen in Europe Award presentation to His Holiness the Dalai Lama by the Verlagsgruppe Passau.
"This man stands for non-violence," he said. Mr. Koch added that failing to support His Holiness means the gun is right. He called on the free people of the world to stand and do something for the Tibetan people.
His Holiness the Dalai Lama said that he was honored to receive the award. He said that since childhood, he had a close feeling with Deutschland. "You built a new nation from ashes. From immense destruction you have built a strong economy and developed a good democratic system. I admire you all," he said.
His Holiness said that the education system should focus more on human values and quality. Moral ethnics not based on religion but on Secularism. However, Secularism doesn't mean disrespect for religion.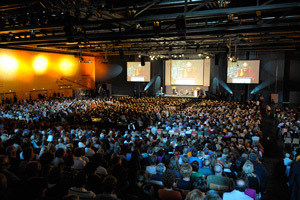 An audience of over 3,500 people listen to His Holiness the Dalai Lama's address during the Menschen-in-Europe Award Ceremony.
Speaking on the Tibetan issue in response to a question from the panel discussion's moderator, His Holiness said, "Our demand is simple. The Tibetan issue has nothing to do with the Dalai Lama's institution. Tibetan people have placed trust in the Dalai Lama and majority of Tibetan people will listen him. I am one simple person. The Tibetan issue is an issue of 6 million Tibetans. The Chinese try to make the Tibetan issue a Dalai Lama issue."
His Holiness the Dalai Lama said that the 20th century was a century of war and the 21st century should be a century of dialogue and peace. Peace does not mean that there are no more conflicts. "But the goal should be to find for both sides, a solution that is acceptable," he said.
Previous winners have included former United Nations Secretary General, Kofi Annan, Chancellor Angela Merkel (CDU) and the Israeli President Shimon Peres.