Miami, Florida, USA, 23 February 2010 (By Jaweed Kaleem, The Miami Herald) - Days after a high-profile meeting with President Barack Obama, His Holiness the 14th Dalai Lama addressed thousands of fans during sold-out speech Tuesday at Nova Southeastern University in Davie.
Sitting cross-legged in a chair onstage in his iconic red and yellow robe, the revered Tibetan Buddhist spiritual leader covered a variety of topics, including universal human rights, war, Tibet and the economy in his hourlong speech on ``The Effect of Compassion on the Global Community.''
Praising the United States for its ``individual freedom, liberty, openness,'' he stressed the world's ``fundamental oneness'' in that ``as soon as we are born on this planet, we have equal rights, every person.''
Many of the world's problems today, he said, ``essentially are our creation. And in the meantime, nobody wants to talk about it. There is too much of a self-centered attitude.''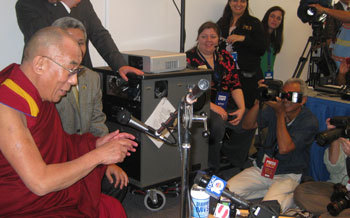 His Holiness the Dalai Lama addressing the Press at Nova Southeastern University on 23 February 2010.
The Dalai Lama spoke highly of Obama, who met with the spiritual leader at the White House on Thursday despite a stern warning from Chinese officials that the meeting would cause ``serious harm'' to U.S.-China relations. He praised the president's outreach to the international community during his campaign and presidency and his advocacy of compromise.
Obama's international popularity ``means he also has extra moral responsibility,'' the Dalai Lama said. The Buddhist leader and the White House have given few details on the meeting, but on Tuesday the Dalai Lama said topics included disarmament, war and the Middle Way, the Dalai Lama's theory for peacefully resolving conflict between Tibet and China.
He said he maintains compassion for the Chinese even though he disagrees with their treatment of his people.
The Dalai Lama fled Tibet in 1959, nine years after China sent communist forces to occupy the Himalayan region, and has since led a self-declared government-in-exile in India.
Peppering his speech with jokes, he poked fun at Obama's short hair, which he said ``looks also like a monk.''
Prior to the public speech, the Dalai Lama spoke for 30 minutes at a press conference. There, he praised the international response to the Jan. 12 earthquake in Haiti.
``I think generally response from other parts of the world has been really wonderful. The feeling of oneness of humanity is good,'' he told reporters.
The Dalai Lama first visited South Florida in 1999 to speak at FIU that year and came back in 2004 to speak at several South Florida locations. He will return May 25 and 26 to FIU, the University of Miami and Miami Dade College.
The Dalai Lama also spoke Tuesday morning with students and faculty at NSU, and will visit Florida Atlantic University on Wednesday. He will give a private address to presidents of South Florida colleges and universities that afternoon at Broward College's Davie campus.
This report was supplemented with material from The Associated Press.