Nubra Valley, Ladakh, J&K, India, 20 July 2010 (ANI) - Tibetan spiritual leader the Dalai Lama has reached Nubra Valley in Jammu and Kashmir's Ladakh region on a nine-day visit to the area.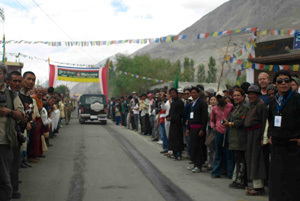 Well-wishers line the road waiting for His Holiness the Dalai Lama's arrival in Nubra Valley on July 20th, 2010. Photo/Tibetonline.tv
Hundreds of the Dalai Lama's well-wishers were standing on the roadsides from Thoise Airport to Samtanling Monastery, carrying traditional ceremonial white scarves, garlands, and incense in their hands, to welcome him and to receive his blessing.
He was received by a number of dignitaries at Thoise Airport.
"Right now the people of Nubra Valley are very happy. People are excited and really enthusiastic about his presence, and they are ready to devote themselves to him. This is his fourth visit to the valley," said Urgen Tsering, President, Ladakh Buddhist Association.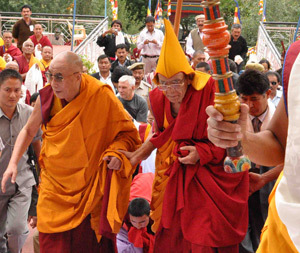 His Holiness the Dalai Lama and Ganden Tripa Rizong Rinpoche on arrival at Samtanling Monastery on July 20th, 2010. Photo/Tibetonline.tv
Buddhist monks welcomed the Dalai Lama with religious fervour at the Samtanling Gonpa monastery, playing religious musical instruments and drums.
"There is no measurement for the happiness that we all are feeling. In morning, the weather was not good and we got this information that there would be some changes in the timings of his flight. But it is our good luck that Dalai LamaJi has come to our valley. He reached here half-an-hour before and all the people of Nubra Valley are overwhelmed with his presence, " said Tsering Angchuk, Executive Councilor, Ladakh Autonomous District Council, Leh (LAHDC).