Yokohama, Japan, 27th June 2010 (by Tsering Tsomo): Using violence in the form of fear and repression cannot solve human problems because fear saddles the mind with needless suspicions and anxiety and blocks the trust and friendship essential to bring real peace and harmony, said His Holiness the Dalai Lama while talking to a group of 28 Chinese journalists, professors, and scholars at an informal meeting at the Intercontinental Grand Hotel in Yokohama this evening.

"The only mutually beneficial way to solve these problems is through face-to-face meetings and talks," he said, adding Chinese president Hu Jintao's vision of creating a harmonious society is very relevant in this context.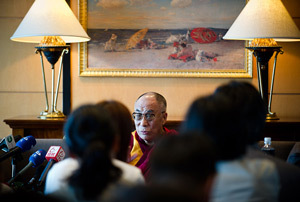 His Holiness the Dalai Lama meets with Chinese journalists, professors and scholars in Yokohama, Japan on June 27th, 2010. Photo/Tenzin Choejor/OHHDL
Since the establishment of the People's Republic of China some 60 years ago, the Chinese government has made great achievements but real harmony is yet to be achieved and this is clearly evidenced by President Hu's harmonious vision for China in the 21st century, said His Holiness. "Harmony comes from the heart, and not by force," he added.
"Whether they accept it or not, Tibet is a problem," he said. Tibetans in Tibet still live in fear without freedom to express themselves, to protect and promote their culture, language, and faith. He said just as Chinese people love their culture and language, Tibetans also have the right to cherish the same feelings.
His Holiness said in the last few decades, global interests in Tibetan culture and religion have increased because more people now realize that Tibetans can contribute much to the world in developing inner values of peace and compassion; even well-known scientists are now deeply engaged in exploring and researching the scientific and philosophical aspects of Tibetan Buddhism in bringing holistic well-being to all human beings irrespective of their faiths.
Responding to a question from a Chinese journalist, His Holiness said when the protests against the Chinese government erupted in Lhasa in March 2008, the Chinese leadership including Premier Wen Jiabao accused the Tibetan exiles in India of instigating the protests which later spread to vast areas of the Tibetan plateau . "I immediately invited the foreign press and the Chinese authorities to Dharamsala so they could see for themselves what we Tibetans are doing in exile," he said.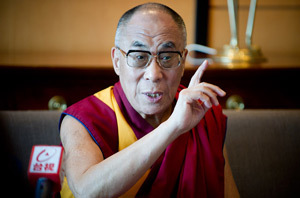 His Holiness the Dalai Lama gestures during his meeting in Yokohama, Japan on June 27th, 2010. Photo/Tenzin Choejor/OHHDL
The publications of false reports repeating the same accusations kept appearing in the Chinese state media. "After that on few occasions during my foreign visits, I met with some very upset and angry Chinese protesters; I even tried to explain the reality but they wouldn't listen," he said, "that's why I believe it's important to meet Chinese press during my visits abroad so I could give them real information."
His Holiness said since 1979 during the late Premier Deng Xiaoping's reign, he made many attempts to solve the Tibet issue through talks. There was a real possibility of solving the issue in the early 1980s after Chinese leader Hu Yaobang's made a well-publicized visit Tibet, but that hope ended soon after Hu's purge and later his sudden death, he said. The re-establishment of contacts between Beijing and Dharamsala since 2002 has so far culminated in nine meetings but without any concrete headway. He also said he is uncertain about the reasons behind the recent posthumous honor bestowed upon Hu Yaobang by the Chinese leadership.
In his reply to another journalist about his wish to visit Tibet, His Holiness said, "It is not about me wanting to visit Tibet or not, they [the Chinese government] are not allowing me." He said the Chinese government did not respond to his request to visit the Tibetan area of Yushu to comfort the victims of the deadly April 14 earthquake. "The Chinese embassy in New Delhi did not accept my donation for the earthquake victims," he said, adding he had always wanted to visit Tibet way back in 1984 and also wanted to undertake a pilgrimage to Wutaishan mountain in China.
On the fate of Middle Way approach after his passing away, His Holiness said since 2001, the Tibetan exiles have been electing their leaders to head the exile Tibetan administration. "I don't decide anything and that's the truth." The elected representatives make decisions and formulate policies, he said. Majority of the Tibetan people agree on the Middle Way as the best way to solve the Tibet issue because it is a mutually beneficial solution; even some intellectuals in China believe so, said His Holiness.