Beverly Hills, California, USA, 20 February 2010 (By Gillian Flaccus, The Associated Press) - Just days after meeting with President Barack Obama, the Dalai Lama said Saturday that he was not offended by the low-key reception he received and understands that the president must be practical despite his stated commitment to championing human rights worldwide.
Tibet's exiled spiritual leader told The Associated Press that he recognizes Obama must juggle his desire to support the Dalai Lama's push for greater Tibetan autonomy with his concerns about angering China, a growing U.S. economic rival and hoped-for partner.
"No disappointment. The last six decades my heart hardened. I do not consider important political gestures. I don't care. The important is meet face-to-face," said the Dalai Lama, who was sometimes assisted by a translator.
"With President Clinton, the first meeting was a 'drop-in,'" he said. "People asked me the same question (then). I don't care."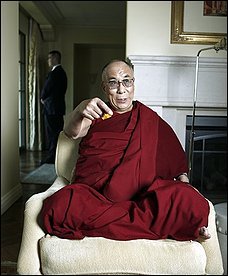 The Dalai Lama is seen during an interview with the Associated Press as a member of the security detail stands in the background during a visit to Southern California, in Beverly Hills, Calif., Saturday, Feb. 20, 2010. (AP Photo/Reed Saxon)
The Dalai Lama made the remarks while in Los Angeles to support Whole Child International, an organization that advocates better care for orphans worldwide.
Obama hosted the Dalai Lama on Thursday in Washington, D.C., but kept the get-together off-camera and low-key in an attempt to avoid inflaming tensions with China.
Revered in much of the world, the Dalai Lama is seen by Beijing as a separatist seeking to overthrow Chinese rule of Tibet. Though he says that is untrue, China regards any official foreign leader's contact with the Buddhist monk as an infringement on its sovereignty over the mountainous region and as a particularly unwelcome snub.
Meetings between the Dalai Lama and U.S. presidents became standard nearly 20 years ago, but they are always delicately choreographed and scrutinized because of China's sensitivity.
This time, China had urged Obama not to meet with the 75-year-old spiritual leader, saying the visit "seriously harms U.S.-China relations."
The Dalai Lama said Saturday it is crucial for the U.S. to develop an economic relationship with China without forgoing America's founding principles.
"You should develop cordial, close relations, mainly in the economic field at the same time (as) your principles, these universal values of democracy and rule of law," he said, as he sat in an armchair in his hotel suite, with his bare feet tucked under him. "In these principles, you should stand firm."
The Tibetan spiritual leader also briefly addressed the Tiger Woods scandal and the golf star's public comments Friday about straying from his Buddhist faith. Woods said he was raised Buddhist but needed to focus anew on finding balance between his faith and professional life.
The Dalai Lama said he did not know who Woods was, but said self-discipline is among Buddhism's highest values.
When it comes to adultery, he said, "all religions have the same idea."
"I think mainly whether you call it Buddhism or another religion, self-discipline, that's important," he said. "Self-discipline with awareness of consequences."