Kais, HP, India, 18 August 2010 (ANI) - Tibetan spiritual leader, the Dalai Lama, expressed his condolences to Leh cloudburst victims during a discourse at the famous Dagpo Shedrupling Monastery in Kullu district on Tuesday.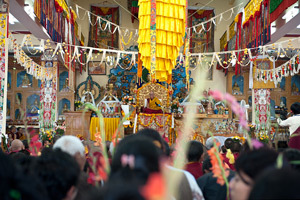 His Holiness the Dalai Lama speaking during the teaching at Dagpo Shedrupling Monastery on August 17th, 2010. Photo/Tenzin Choejor/OHHDL
During his visit, the Dalai Lama spoke about various natural calamities, taking place around the world.
"Everybody wants happy life, nobody wants suffering. Yet, there are disasters by nature and immense suffering. There was a disaster in Pakistan, Leh area, in China and also in Russia. There was fire, drought and a lot of damage," said the Dalai Lama.
"We can only pray. I want to express my condolence to those who have lost family members. So now, what is important is despite of these disaster and immense suffering, you should not lose your hope and your self-confidence. You must work hard and look forward to more development and happier days. That is very important," he added.
The Dalai Lama is currently on a religious tour of Kullu-Manali, visiting monasteries and delivering sermons.
Scores of foreign devotees from across the world thronged the Dagpo Shedrupling Monastery for an audience of the Tibetan spiritual leader and to listen to his discourse.
The Dagpo Shedrupling Monastery situated at Kais village near Naggar in picturesque Kullu Valley, with its serene surroundings, was built to commemorate the 15th century Dagpo Monastery that was destroyed in Tibet during the Chinese invasion in 1959.
Tibetans living in-exile in India view this new monastery as a way of preserving their religion and culture.