New Delhi, India, 20 November 2010 - His Holiness the Dalai Lama today engaged in a conversation with renowned Indian master Dr. Yogacharya BKS Iyengar on mind training and compassion in a discussion titled Yogic and Buddhist Techniques of Mind Training and Cultivating Compassion at the Convention Center of India Habitat Center in New Delhi.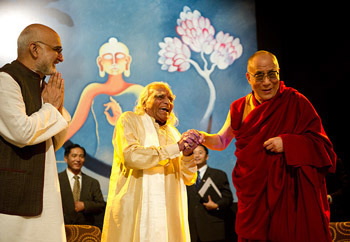 His Holiness the Dalai Lama with BKD Iyengar and discussion moderator Rajiv Mehrotra at the Indian Habit Center in New Delhi, India, on November 20th, 2010. Photo/Tenzin Choejor/OHHDL
His Holiness said happiness is generally understood as deep satisfaction; however, it is important to make a distinction between satisfaction achieved through sensorial level and mental level. The mental level of happiness, he said, can be achieved through spontaneous willingness from within as well as mind training leading to ultimate compassion. For a Buddhist practitioner, His Holiness said the ultimate goal is achieving Buddhahood by cultivating a compassionate mind and the by-product of thus practice is the ability is to achieve a calm and positive mind in one's day-to-day life.
Dr. Iyengar known for deciphering the code of Patanjali Yoga Sutra in a scientific way and who has practiced Yoga for the last 60 years explained the seven stages in achieving happiness through yoga. He said the moment the intellect of the heart and mind meets through complete understanding of body and mind cleansing, that is when the consciousness of the egoistic self or the "I" is nullified and a practitioner experiences boundless uncolored joy. The aim of yoga, said the sprightly 93-yr-old is to achieve non-colorisation of happiness where remnants of the self is eliminated. He said a yoga practitioner treats negative emotions such as anger as separate entities and thereby brings the mind under control.
His Holiness referred to the various stages of mind as are described in Buddhist texts saying daily meditation coupled with investigation on shunyata or emptiness helps a Buddhist practitioner in achieving happiness. He said the Yoga Mandala practice in Tibetan Buddhism involves the understanding of the concept of emptiness or shunyata. Unless a practitioner has a deep understanding of shunyata, it perpetuates grasping of false realities or perceptions.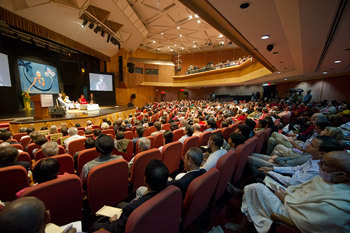 The Indian Habitat Center in New Delhi, India, venue for the conversation with His Holiness the Dalai Lama and BKS Iyengar on November 20th, 2010. Photo/Tenzin Choejor/OHHDL
Asked by moderator Mr. Rajiv Mehrotra, secretary/trustee of the New Delhi-based Foundation for Universal Responsibility (FUR) if yoga aims at loosening such grasping to avoid maya or false realities, Dr. Iyengar said yoga considers ignorance or mental deficiencies as the cause of all sufferings or dukha in the world. He said living moment to moment without getting caught up in the wheel of past or memories is the path to future. In Patanjali Yoga, he explained, shunyata is known as manolaya or dissolution of the state of mind.
Speaking on the mind and body connection, His Holiness said like yoga practice that stresses on the connection between emotions and physical postures to achieve a state of equilibrium of equanimity, Tibetan Buddhist practice also stresses on the importance of mind and body connection whereby a practitioner when meditating has to focus on the correct body posture such as keeping the spine straight in order to allow the correct flow of energy to provide relaxation during meditation. He then referred to the Vajrayana school of Tibetan Buddhism where connection between right body posture and state of mind are described in detail such as dream state or deep sleep state.
Dr. Iyengar said there are some similarities or closeness between Indian yogic tradition and Tibetan Buddhist approach and suggested both traditions should work together to find a common avenue to benefit the humanity.
The discussion was attended by Indian and western scientists among them physicists and neuroscientists, scholars, spiritual practitioners and the general public.