McLeod Ganj, HP, India, 9 December 2010 (Press Trust of India) - Hailing Tibetan spiritual leader Dalai Lama as "Buddha of this era" Himachal Pradesh chief minister Prem Kumar Dhumal today said that the Buddhist monk was an apostle of Mahatma Gandhi's message of peace and non-violence.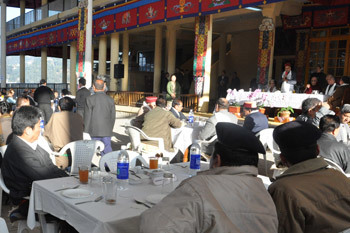 Chief Minister Prem Kumar Khumal speaking at the breakfast reception for the Himachal Pradesh state Legislative Assembly at the Main Tibetan Temple in Dharamsala on December 9th, 2010. Photo/Namgyal Tsering/TibetOnlineTV
"The Dalai Lama is the greatest living Buddhist monk, the Buddha of this era, and an apostle of Mahatma Gandhi's message of peace and non-violence," Dhumal said during a breakfast reception organised by Tibetan Parliament in Exile for members of the state Legislative Assembly, who are here to attend the winter session.
The chief minister said India and Tibet cherish long historical and religious ties.
"I pray for long and healthy life of the Dalai Lama. May the Tibet issue be resolved soon and the relationship between Indians and Tibetan people continue to flourish," he said.
Praising the Indo-Tibetan ties, the Dalai Lama said, "India and Tibet share a relationship of teacher and student."
The Buddhist spiritual leader revealed that he as a student had a special connection with Himachal Pradesh as two of his teachers, Khunu Lama Tenzin Gyaltsen and Rigzin Tenpa, belonged to the state.
He said Himachal Pradesh has proved very auspicious in helping him to promote of Buddhist values and highlight the plight of the Tibetan people.
"I have witnessed different chief ministers during the last 50 years, which shows the strength of Indian democracy and the people's mandate in choosing a competent democratic leadership," the Dalai Lama said.