Yokohama, Japan, 24th June 2010 (by Tsering Tsomo): In the past century, many small nations were caught in a cycle of violence and bloodshed while defending their sovereignty and national interests. Instead of solving human problems, this approach has planted more seeds for future violence. But the 21st century has confronted humanity with a new reality that makes it difficult for nations to stay isolated and focused only on small narrow interests, said His Holiness the Dalai Lama in his interactive talk with over 100 university students and educationists from 20 different universities and colleges at the Intercontinental Grand Hotel in Yokohama district in Tokyo this afternoon.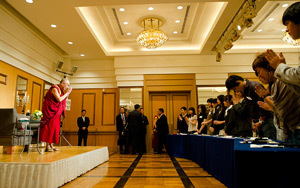 His Holiness the Dalai Lama greets students and educationists before an interactive talk in Yokohama on June 24th, 2010. Photo/Tenzin Choejor/OHHDL
"The new reality calls for a more holistic approach of solving conflicts and problems so peace and happiness can be achieved not only at the individual level but also at the global level," said His Holiness. "Promoting common interests helps in promoting individual interests."
He said the Buddhist concept of interdependence which emphasizes adoption of holistic viewpoint can be applied to a wide range of issues from global warming and global economy to family business and individual well-being. When one sees problem only in a single-pointed manner and ignores the parts that make the sum total of that problem, one cannot expect to look at problems with a realistic approach. "If you think at a global level, it is much more liberating than narrow-minded thinking."
Expressing his hope for a more peaceful world, he said human beings are becoming more mature about concepts of war and spirituality. In the mid-20th century, there was competition among many countries to develop nuclear weapons. In the later part of the century, the crisis of moral ethics has driven more people to seek peace of mind after realization dawned that material development has its own limitations.
Big nations like the United States and the Russian Federation are now seriously considering the reduction of their nuclear arsenals. The spirit behind the European Union's establishment has stressed the importance of common interests over national interests. These developments, His Holiness said, serve an encouraging possibility that there is hope for a better world. He recalled an observation made by the late Queen Mother of England that the concepts of human rights and self-determination once unknown in her youth had now become universal values.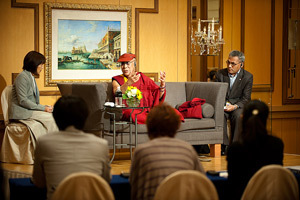 His Holiness the Dalai Lama with his Japanese and English interpreters during his talk in Yokahama on June 24th, 2010. Photo/Tenzin Choejor/OHHDL
His Holiness said there is no guarantee for happiness and peace but it is good to hope and work towards achieving these ideals. "It is good to hope because hope sustains life." Loss of hope shortens life itself throwing people into depression, loneliness and even suicide. "Constant anger or resentment eats into our immune system." This has been amply demonstrated by recent scientific studies that a healthy mind leads to a healthy body.
All religious traditions emphasize the importance of truthfulness, compassion, honesty and transparent conduct to achieve a happy life; although methods may be different, the essence is the same, he said. Even Buddha, mindful of different mental dispositions among his disciples, talked about contradictory philosophies avoiding any straight-jacketed viewpoint or approach. If one is honest in his or her dealings with others, there's no need hide anything, no room for hypocrisy, or lie. These "secular ethics" are common to all religions and are the basis of developing "inner values" which in turn help contending parties to solve conflicts in a spirit of dialogue and reconciliation. Thus, all religions have the same potential to help humanity in cultivating these inner values. "Your inner wealth is your best friend."
Speaking on the gap between rich and poor countries, he said this contradiction has created a vast surplus in richer nations but hunger and starvation in poorer countries. "This is not only a moral crisis but a practical crisis because these problems can be solved." He commended the initiatives taken by NGOs such as the Bangladesh-based Grameen Bank, founded by the Nobel Peace Prize winner Dr. Muhammad Yusuf, that provides small loans to the poor in finding self-employment. The micro-credit approach is now being followed in other countries to end poverty.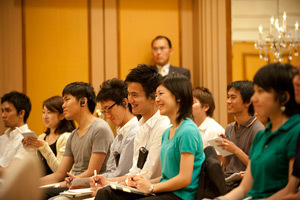 Some of the students and educationists who attended the interactive talk with His Holiness the Dalai Lama in Yokahama on June 24th, 2010. Photo/Tenzin Choejor/OHHDL
He recalled a meeting he had with a wealthy businessman from Bombay (India) who had come to seek his blessings. "I told him the source of blessing is within himself if he could spent a small portion of his profits to help thousands of slum dwellers in his city. That is the best way to get blessing."
Mr. Akira Ikegami, a well-known political commentator on Fuji TV, who moderated today's session said young Japanese can learn from His Holiness' approach of kindness, peace and non-violence. "He is the Gandhi of our time."
Yoshiki Toda, a 22-year-old senior at University of Tokyo who is also a Buddhist said the session with His Holiness has given him a different perspective of looking at environmental issues. "I am in the process of researching a paper on global environmental problems and I'll see how Buddhist philosophy fits into this largely scientific paper."
Twenty-one years old Mika Kikuchi is a student at Sophia College. She told His Holiness about her visit to Dharamsala and expressed her fascination with the "ever-smiling" Tibetan refugees who despite having gone through hard times looked very happy. His Holiness said it is not only their faith but also their cultural upbringing that Tibetans can find a way to see the positive side of every problem and hardship. "Some Tibetans without having any deep textual knowledge of Buddhism are generally happy and it's partly because of their cultural heritage which stresses compassion for all living things."
This talk session was organized by Kodan Sha Publishing Company, one of the three largest publishing companies in Tokyo, and was supported by Tibet House (Japan).
Kodan Sha will publish a book on this session in Japanese language before this year-end.