Yokohama, Japan, 28th June, 2010 (byTsering Tsomo): If the Tibetan people can achieve genuine autonomy in protecting and promoting their culture, language, identity, and way of life, it can also provide hope for a more just and compassionate society in China where the frenzied rush to accumulate wealth and power has led to the rapid erosion of moral principles, said His Holiness the Dalai Lama at an informal gathering of some 70 Tibetans and their Japanese supporters this morning at the Intercontinental Grand Hotel in Yokohama.
His Holiness said the Tibetan people's struggle for autonomy is based on valid historical and cultural basis. "Since the 7th century, the Tibetan people have developed their own language, religion, and culture without seeking any help from outsiders," he said, adding the most comprehensive knowledge on Buddhism, for instance, is available only in Tibetan language.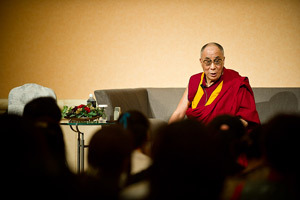 His Holiness the Dalai Lama speaking to a gathering of Tibetans and their supporters in Yokohama, Japan, on June 28th, 2010. Photo/Tenzin Choejor/OHHDL
Tibetan cultural and religious traditions emphasize the inner values of truth, kindness, peace, and the well-being of humanity even as Tibetans in Tibet still face violent suppression of their basic rights as human beings. Because Tibetans have been honest and transparent in their dealings with the Chinese authorities in solving the Tibet issue, there is no need for them to feel hatred, prejudice, bias, or tell lies, he said. "Truth, not force, is our biggest strength."
In his brief address to the gathering, Mr. Tsegyam, head of the China Desk at the Private Office of His Holiness the Dalai Lama said concern is now growing among many Chinese intellectuals about the corrosion of traditional Chinese values in the current socio-political system in China.
Although extreme nationalistic feelings particularly among young Chinese, provoked largely by a xenophobic state media, is still a problem, Mr. Tsegyam said awareness about the Tibet issue is increasing not only among Chinese intellectuals but also among ordinary Chinese in and outside mainland China. He said mainland Chinese Buddhists are now paying more attention to Tibetan Buddhism by attending His Holiness' teachings in India. Over 500 Chinese now visit India annually to learn about Buddhist teachings from His Holiness; more than 200 mainland Chinese Buddhists attended His Holiness' teaching in Varanasi (India) last year. Many more were unable to attend due to restrictions imposed by the Chinese government. Chinese scholars, professors, writers, and artists often seek audience with His Holiness.
Recalling a meeting His Holiness had with 11 Chinese university students in Paris, Mr. Tsegyam said the students asked for pictures of His Holiness so they could take them home and show it to their family and friends and tell them about the problems faced by the Tibetans. One of the students who was studying filmmaking conveyed a message of apology to His Holiness from his father who as a PLA soldier in 1956 had to kill many Tibetans. "He said he heard his father cry on phone when telling about his actions in Tibet as a PLA soldier," Mr. Tsegyam said. "Try to befriend every Chinese you meet because that's the best way to clear doubts and misinformation."
He said all Tibetans living in Tibet Autonomous Region (TAR) and in four provinces of Sichuan, Qinghai, Gansu and Yunnan share a common history, language, culture, faith, and way of life. "That being the case, it is not fair and just, even defies common sense, to deny genuine autonomy for over 4 million Tibetans who live outside the TAR," Mr. Tsegyam said.
Before addressing the Tibetan gathering, His Holiness met with an 8-member parliamentary delegation led by Mr. Makino Seishu, a member of the Japanese parliament.