Yokohama, Japan, 26th June 2010 (by Tsering Tsomo): In a powerful and moving demonstration of spiritual peace and harmony, the exhibition hall of Pacifico Yokohama reverberated with prayers as groups of Buddhist monks from India, Taiwan, South Korea, and Japan took turns on the stage to recite the Heart Sutra before a giant Buddha scroll and His Holiness the Dalai Lama as about 12,000 people watched, some applauding and some joining the prayers, today at Yokohama district in Tokyo.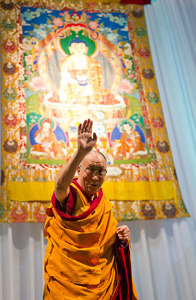 His Holiness the Dalai Lama greets the audience before his talk in Yokohama. Photo/Tenzin Choejor/OHHDL
Tibetan monks from the Tashi Lhunpo monastery in South India also joined the prayer ceremony that highlighted the message of compassion, universal harmony and interdependence delivered by His Holiness in his teachings on Dependent Arising and Generating Altruistic Mind followed by a public talk on Essence of Happiness and Healthy co-Existence at Pacifico Yokohama.
Speaking at the event, His Holiness said this spiritual gathering of Buddhist devotees - among them 400 Koreans, 300 Mongolians, 300 Chinese, and hundreds of Japanese - reflects the widespread propagation of Buddha's teachings in Asia. He said he was optimistic about the prospects for a more peaceful and non-violent world as a small but significant group of people are now focussing their attention and energy on developing secular ethics of compassion, peace, love and kindness.
These secular ethics have the possibility of promoting a happy and healthy life for believers as well as non-believers. However, many see these secular ethics as religious and hence ignore them but His Holiness said compassion is biologically inherent in all living beings, animals as well as humans, in that everyone needs love and kindness for a happy, wholesome life. "There are many non-believers who are also great human beings," he added.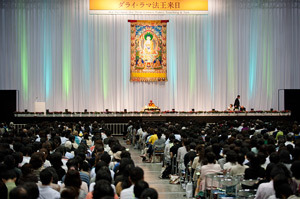 The exhibition hall of Pacifico Yokohama, venue for His Holiness the Dalai Lama's teaching and talk. Photo/Tenzin Choejor/OHHDL
Secularism, His Holiness said, is misunderstood by some religious practitioners as rejection of religion which is not true. In the current reality, secularism means respect not only for all religions but respect also for non-believers. In ancient India, this kind of secular attitude was quite common. He cited a conversation he had with a prominent Indian personality who told him about the Charvakas, a group of atheist philosophers active in India around 600 BC. The Charvakas rejected the existence of gods and were skeptical critics of religion but they were well-respected as rishis (sages) as any other learned religious practitioners.
Explaining various levels of compassion, His Holiness said in contrast to animals, human beings possess reason and intelligence to practice a higher level of compassion that treats even one's enemy as one's own because everyone has the right to be happy and avoid suffering. "The more we think about others, the happier we become."
His Holiness said in a more interdependent world, the concept of "we" and "they" has become obsolete making every country dependent on each other for mutual well-being. Issues of global concern such as the current economic crisis and environmental destruction exemplify the need for everyone to live together as a human family. "That's the new reality," he said, "but our perception has not changed with the new reality." This gap between reality and perception has triggered many unnecessary problems and disagreements in the world today.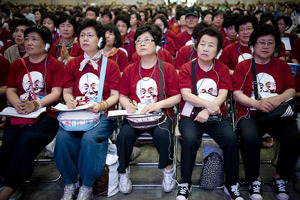 Audience members listen to His Holiness the Dalai Lama during his talk in Yokohama. Photo/Tenzin Choejor/OHHDL
The dependent nature of all existence, that all things are related to each other and nothing arises independent of other factors, is the essence of Buddha's teachings, His Holiness said, adding suffering can be overcome not by praying but by knowing the cause of suffering and the root cause of suffering is ignorance. The inability to identify this ignorance leads to distortion of the reality and throws people into the never-ending wheel of suffering.
The joint prayer ceremony also saw a group of traditional Mongolian musicians who dedicated a special composition for His Holiness. Mr. Sadao Watanabe, an influential Japanese jazz musician and saxophonist also performed at the event.
Others in the audience included professors, scientists, students, teachers, and representatives of some foreign consulates in Tokyo.