Patna, Bihar, India, 8 February 2010 (By Faizan Ahmad, TOI) - The Dalai Lama has consented to inaugurate the Buddha Smriti (Memorial) Park here on May 27. The day will coincide with the auspicious occasion of the Buddha Purnima.
The Tibetan spiritual head gave his consent on Monday when chief minister Nitish Kumar called on him at his government in exile headquarters at Mcleodgunj, 15 kms away from Dharamshala in Himachal Pradesh.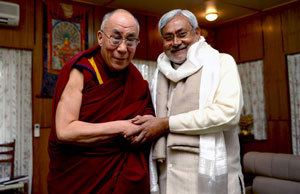 His Holiness the Dalai Lama with Bihar Chief Minister Nitish Kumar in Dharamsala on 8 February 2010. Photo: Tenzin Choejor, OHHDL
Nitish had an hour long meeting with the 74-year-old 14th Dalai Lama during which he extended an invitation to him to inaugurate the park. The park with a meditation hall is coming up on a 22-acre plot in the heart of the city and close to Patna Junction at a cost of Rs 125 crore and will also have a giant size statue of Lord Buddha.
"The His Holiness was gracious to accept our invitation and also promised to donate Buddha relics to be kept in the park which will be an added attraction," Nitish, who returned to New Delhi en route Patna, told TOI.
The state government is constructing this memorial park on Buddhist model of construction to mark the 2550th year of Mahaparinirvana of Lord Buddha. The Dalai Lama will also unveil the statue.
Nitish said that he also briefed the Tibetan temporal head about the proposed Nalanda International University which is in process of taking shape.
The Nobel peace awardee showed keen interest in the proposed university in which many south Asian countries are stakeholders and also in the development of the spots related to the memory of Lord Buddha in Bihar. Last month, the world famous monk was at Bodh Gaya to give sermon during five-day long teaching session.
The CM, who reached Dharamshala on Sunday, attended a dinner hosted in his honour the same night by Prime Minister of Tibetan government in exile Samdhong Rinpoche. He also visited Chamunda Devi Shaktipeeth and Brajeshwari Devi temple at Kangra.