Miami, Florida, USA, 23 February 2010 (By James D. Davis, SunSentinel) - Voicing admiration for American values, the Dalai Lama on Tuesday pled for the United States to spread freedom to other lands.

"America is a champion of democracy and liberty; you should be proud of those values," the exiled Tibetan Buddhist leader told more than 3,500 listeners at Nova Southeastern University in Davie. "When you deal with other countries, you must keep these things very important."

His talk, "Universal Responsibility," was delivered to students, staff and faculty at Nova's Don Taft University Center. The first of two addresses at the university, it was the start of a two-day round of talks at colleges and universities in Broward and Palm Beach counties.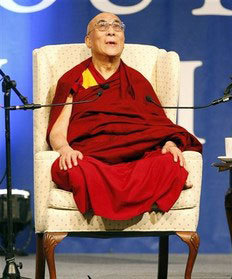 The Dalai Lama looks up as he speaks to students, faculty, and guests at Nova Southeastern University in Davie, Florida, Tuesday, February 23, 2010 (AP Photo)
Believed by Tibetan Buddhists to be Chenrezig, the bodhisattva of compassion, the Dalai Lama said that education and mass media had caused growing numbers of people to think in terms of respect and cooperation, rather than conflict.

"It is nearly 10 years since the start of the 21st century, but already much has changed," he said at the gathering, co-hosted by NSU and Broward College. "Now, we should consider that every part of the world is part of me. We still need to educate people that our own interests depend on others' interests."

The stadium-like auditorium was flooded with Eastern-style music before the talk, with live performances as well from the NSU Vocal Ensemble. J. David Armstrong, president of Broward College, announced the granting of the college's first baccalaureate degree, in teacher education.
For his talk, the Dalai Lama used an easy chair on the stage, drawing laughs as he struggled to sit cross-legged. Then the crowd fell silent as he began speaking.

First, he called for schools to teach compassion and responsibility, rather than just facts.

"With too much education, even a brilliant mind can go wrong, to destruction," he said. "Ultimately, inner values are essential."

He compared the relationship of nations to the relationships of people to families and communities.

"In a family, each person carries some of the responsibility," he said. "The human being is basically a social animal. Each person depends on the community."

He said the recent Copenhagen Summit disappointed many observers for failing to do more for the poor. The reason, he said, was that "national interests were more important than global interests."

He decried the "sad reality" of war, which starts from a "strong demarcation between we and they." But he found encouragement in the formation of the European Union, forming a community of nations there. "It is not true spiritual enlightenment, but it's a positive thing."

The Dalai Lama said China deserves to improve its economy and to have a place among more powerful nations. He added that he admired the late Chinese leader Mao Zedong in the early years, but was puzzled by his subsequent aggressive actions in China as well as Tibet.

In a Q&A session, he drew more laughs when he donned a visor that matched his maroon robes. Answering one question, he said his talk with President Obama last week dealt with Tibet and the need to educate its young people.

He praised American news media for guarding democracy and said reporters "should have a long nose, like an elephant." But he did fault the amount of "negativity" in media programming, saying it should be matched by positive content.

The Buddhist leader also said people should be given light but productive work even up to the age of 70. Retirement homes would also benefit by letting the elderly mix more with children, he suggested.

"Inspiring" was the word Ryun McKenzie, a graduate pharmacy student, had for the Dalai Lama's talk. Especially the teaching that people should separate respect for a person from his actions.

"He said lessons that we all know, deep down," said McKenzie, 35. "It's good to hear from somebody so influential."