Yokohama, Japan, 27th June, 2010 (by Tsering Tsomo): The secular nature of moral ethics is common to all religions despite differences in belief systems because these ethics of compassion, peace and global responsibility are common to all religions, said His Holiness the Dalai Lama at the conclusion of a brief talk during his visit Sojiji Temple at Tsurumi in Yokohama district in Tokyo this morning.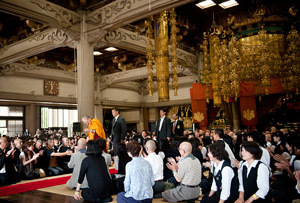 His Holiness the Dalai Lama greets members of the audience at Sojiji Temple in Yokohama, Japan on June 27th, 2010. Photo/Tenzin Choejor/OHHDL
"Even non-Buddhist practitioners such as the Christians listen to my talks on philosophical aspects of Tibetan Buddhism and understand my message on the importance of secular values as these values are common to all religions," he said, adding all are human beings first and therefore cultivating a sense of global responsibility is crucial in bringing genuine peace and compassion."
He was speaking to over 1,700 people including monks, local devotees and school children who had gathered at the main temple of the Soto-shu sect of Buddhism to listen to His Holiness.
He said it is important to delineate a clear line between religious faith and religious culture when asked by an audience member on how to stay true to one's religion and at the same time appreciate other faiths. He said Tibetan Muslims in Tibet practiced Islam but their cultural habits were no less Tibetan. But ultimately when it comes to decide which religion to choose, it is up to the individual's own personal preferences. He also led a prayer of the Heart Sutra in Japanese which he said is common to all Buddhists.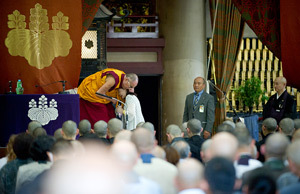 His Holiness hugs a young woman during the question and answer session of his teachings at Sojiji Temple in Yokohama, Japan, on June 27th, 2010. Photo/Tenzin Choejor/OHHDL
Responding to another question, he said since coming into exile in India over 51 years ago, he had the opportunity to visit many highly developed countries such as Japan and United States where he witnessed the problems faced by many people in finding inner peace. These problems he said, are caused by lack of moral principles which shows the limitations of material development. During the talk, His Holiness warmly hugged a single mother of two to comfort her as she broke down in tears sharing her daily struggle to find peace.
At the end of the talk, school kids gifted His Holiness some hand-made sketches of the Sojiji Temple. The temple runs many educational institutions and universities among them the Tsurumi University, and the Setaya Gakuen School where on June 25 His Holiness delivered a talk to middle and high school students.