Zurich, Switzerland, April 10th, 2010 - The second day of the Mind and Life XX Conference - Altruism and Compassion in Economic Systems - with His Holiness the Dalai Lama was held in Zurich today. Below is a summary of the day's events courtesy of the organizers of the event, Mind and Life Institute (www.mindandlife.org)
Session 3
"What are the recent most important findings from economic research which help us to understand how cooperation, how decision-making and pro-social behavior work?" This is how Gert Scobel of 3sat opened the introduction to Session 3 on Day 2. Lord Richard Layard of the London School of Economics, after discussing different situations where competition or cooperation would be more appropriate, talked about how increased wealth does not correlate with increased happiness. Many people are stuck in a world of 'social comparisons,' where status is more important than being economically comfortable. He emphasized that while wealth is increasing, mental health is on the decline; and to combat this he introduced the Movement for Happiness to try to both increase happiness and reduce misery in the world. The Dalai Lama agreed to support the movement – "But don't expect money!"
His Holiness at the second day of the Mind and Life XX Conference. (Photo courtesy/Manuel Bauer)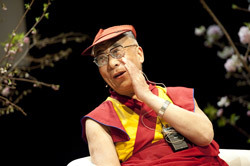 His Holiness asked, "Why is it that I've seen studies where the level of happiness is higher in Cuba than in the United Kingdom?" Lord Layard said that it may result from greater cooperation among the members of Cuba's society, a necessity in such a poor country. Lord Layard polled the audience to see if they thought that people in general can be trusted. Overwhelmingly the answer was yes. His Holiness laughed, "In this hall, the people are very good, very trusting. People outside this hall, I don't know!"
Later His Holiness remarked, "The G7, the G20, none of these groups are focused on happiness. We need more cooperation based on trust, on respect, on love. 'I need you.' We must base our interactions on that idea. 'I want happiness, and I need you. We need they. You must first extend your hand to others; you cannot wait for people to come to you for cooperation. This is most important."
The audience at Mind and Life XX. (Photo courtesy/Manuel Bauer)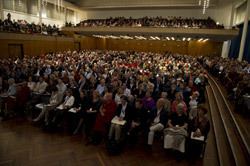 William Harbaugh of the University of Oregon started by explaining how current economic systems have self-correcting measures built in. Self-interest is a reliable strategy as goods are produced and distributed; and as rules are enforced to prevent one from harming others, the threat of punishment will keep actors in line, serving their self-interest. Welfare of the poor is not a market good, it is a public good. We should develop 'warm-glow' altruism to gain both external profit for those in need of the public good and internal profit by getting neural benefit. Pure altruism, where nothing is gained, may not work in an economic system; but 'warm-glow' altruism, where you know it will produce a feeling of satisfaction by directly helping others, is very effective and will compel people to want to do it again.
"What does altruism do for us?" Ernst Fehr asked as he returned to the stage. Public goods, as he defined, can be consumed by all members of a group, regardless of whether they contribute to them. Democratic liberty, the environment, etc. – these are examples of public goods. There is an undersupply of public goods in the world if people act selfishly. "Why do people start out acting altruistically, especially in these trust experiment games you perform?" asked His Holiness. "Many people start out very optimistic about others, but after witnessing selfishness in others, their altruism diminishes to the point where it almost ceases to exist," replied Ernst. How can we solve this problem? Altruistic sanctioning of non-cooperation – the ability to punish those who act selfishly and harm others. Once it is introduced into the arena, cooperation immediately soars and becomes almost universal.
Session 4
Antoinette Hunziker-Ebneter, CEO of Forma Futura Invest Inc., declared the we, all of us, are responsible for our economic system, and the problems that arise out of it. Do we want to create a better system, with more sustainable outcomes, with more focus on people's good, rather than materialism and selfishness? People are starting to question investment strategies to find stocks that coincide with their personal worldview. We are seeing a shift from a desire for quantity to quality, from pure profit to profit with a purpose. Intangible benefits need more prominence such as health, freedom of choice, etc. Revolution, rather than evolution, is necessary, as time is not in our favor to wait for the sustainable financial system to organically arise. Part of the solution is to invest in the companies that support our endgoal of compassion and altruism.
Mind and Life XX panel. (Photo courtesy/Manuel Bauer)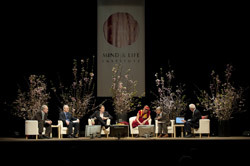 "I think human intelligence can and should be applied to working on solutions like this," remarked His Holiness. "Material development can only grow so far, so there should eventually be a sense of contentment with where we end up. However, mental development should never be content."
Arthur Vayloyan, of Credit Suisse, asked, "What can a bank do to help reduce poverty in the world?" Microfinance (not just microcredit) is part of the solution; it is defined as providing all basic, classical financial services for the poor. From his team's beginning, investing in very small projects such as a woman in Cambodia who started with a loan of $13, Credit Suisse and other institutions have helped bring the size of microfinance to current global investments of about $45 billion. But aid alone, especially from governments and NGOS, will not do the job; throwing money at a problem without a very clear strategy will only pollute the problem. No one believed that this sort of venture would work. Arthur quoted Nelson Mandela – "It always seems impossible until it is done."
Sanjit "Bunker" Roy conveyed his inspiring personal story with his time. After an expensive education, he was inspired to abandon the prospects of a well-to-do life upon visiting a poor village for the first time. He started the Barefoot College, an institution built by the poor, staffed by the poor, and dedicated to the education of the poor. No one with formal education is allowed. The policy is to visit destitute villages around the world, searching for people to train to become solar engineers. Only women are allowed. "Because we have found men are untrainable." Bunker asked if His Holiness agreed with this conclusion. "Yes," he said. "I am a lost cause." Grandmothers, in particular, are ideal for this. At the Barefoot College, they are taught by sign language and by example how to build, repair, and maintain solar panels. "With solar panels, the Indian women we train are so precise, not like normal Indian women. They are not always so precise." His Holiness joked, "Also Tibetan women!" After they are ready, they return to the village and install units around their village, at the cost of $2 per month. This has allowed the solar electrification of 600 villages in India alone.
"Real transformation comes from villages and projects like this. Change must come from the bottom," His Holiness mused. Responding to a question about how this will affect migration to urban areas, Bunker said, "Develop the quality of life in villages, and this will prevent people from moving away to the cities."
Ven. Matthieu Ricard during the Mind and Life XX session. (Photo courtesy/Manuel Bauer)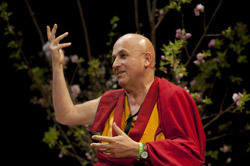 Matthieu Ricard finished the session with a brief few comments about humanitarian work. It is growing everywhere, especially on small scale projects. Non-government organizations can tease altruistic cooperation out of the groups and cultures they touch. They should confederate to continue and increase this very important work.