Bhopal, Madhya Pradesh, India, 17 March 2010 (Hindustan Times) – Tibetan spiritual leader the Dalai Lama has stressed the need for individual freedom to ensure overall growth of human creativity.
"Without freedom, one's creativity cannot bloom. Right to freedom is pivotal for the progress of any society. And for this, there should be a sense of global responsibility, a feeling of oneness for all beings."
He was delivering a keynote address on "Human Rights Through Universal Responsibility" at the Assembly auditorium here on Wednesday. The program was organized by the Madhya Pradesh Human Rights Commission (MPHRC).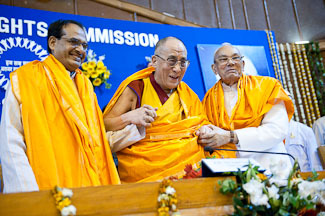 Tibetan leader the Dalai Lama along with Chief Minister Shivraj Singh Chouhan (left) and Governor Rameshvar Thakur (right) after the Human Rights Commission function at the State Assembly in Bhopal on Wednesday. (Photo/OHHDL/Tenzin Choejor)
Emphasizing the need to build a safe and happy environment, he said money has become extremely important these days. "Building a robust economy is vital for growth but germinating the seeds of human values within ourselves is equally important. Money can give you all kinds of facilities, it can fetch you the luxuries but can it give you peace of mind? We must, therefore, pay more attention to our values."
Compassion, he said, is a prerequisite for building a happy individual, a happy society.
India has traditionally been practicing Ahimsa based on compassion and has been promoting religious knowledge, he said, adding. "This is the message I also carry and so I can be called as a messenger from India."
Lamenting the decline in the moral ethics he said, "The slide is not just confined to broader religious beliefs but deeper human values. The need, therefore, is to build efforts for promoting compassion and forgiveness."
Every individual including animals have a right to overcome sufferings. We are all the same human beings – there could be barriers of language and other differences between any two individuals but communication could still be easily knitted through any form of expression – even a smile.
"I have lived a major part of my life in India. This body of mine, over the last several decades, has been nourished on Indian dal and roti. In that sense, I am an Indian."
All religious, he said, had the same potential to build healthy individuals. One can't categorize a particular religion as the best.
Eulogizing the state government for taking an initiative to build a Buddhist University near Bhopal, he said "Buddhist study has three main components – Buddhist science, Buddhist philosophy and Buddhist religion. The first two can be disseminated though the new educational apparatus."
Praising India for its communal harmony he said, "After having witnessed conflicts between different sects and castes in other countries, I feel India is so much better off."
Advocating strongly the need for women to play an active role in the society he said that biologically women had greater proclivities towards compassion. "In my case also, the seeds for compassion were sown by my mother. Buddhism enhanced it."
The lecture was followed by the Tibetan spiritual leader's brief interactive session with the audience. However, he parried questions on China and politics. Replying to a query, he stressed the need to introduce an educational system based on moral values. "We need some scholars for carrying out research on how to introduce moral values in the education system," he said.
Governor Rameshwar Thakur and Chief Minister Shivraj Singh presided over the program. MP Human Rights Commission Chairman Justice DM Dharmadhikari have the welcome speech.
A book titled 'Human Values and Human Rights' written by Justice Dharmadhikari and the magazine of the Commission were also released on the occasion.
Governor Rameshwar Thakur gave a warm welcome to Tibet's spiritual leader the Dalai Lama in the Raj Bhawan on Wednesday. The Governor presented a memento and shawl to him. Lunch in honor of the Dalai Lama was also organized in the Raj Bhawan. Chief Minister Shivraj Singh Chohan was also present. Others present were Leader of the Opposition Jamuna Devi, Pradesh Congress Committee President Suresh Pachauri, MP Kailash Joshi, Cabinet Minister Babulal Gaur and Mayor Krishna Gaur.
Chief Minister Shivraj Singh Chouhan called on the Nobel peace prize winner Dalai Lama at Hotel Noor-is-Sabah. The Chief Minister presented him a shawl and shriphal.