Maribor, Slovenia, 6 April 2010: His Holiness the Dalai Lama spoke to a packed hall of over 5,000 people for two hours on Ethic for the New Millennium in Maribor, Slovenia's second largest city today. The tickets for the public talk were sold out within one week. Among the audience were people from neighbouring Austria, Italy, Hungary and Croatia.
His Holiness the Dalai Lama greets the audience at the public talk in Maribor.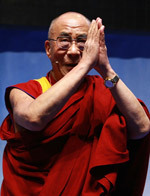 The audience had the opportunity to ask questions to His Holiness the Dalai Lama ranging from education, happiness, compassion, politics, culture and the reincarnation of the Dalai Lama.
His Holiness emphasized the importance of education of warm heart and said that real peace must come from within ourselves. Taking drugs, gambling and alcohol is lack of inner realization of our inner potential – inner value.
He said that he left Tibet and crossed into India in April 1959 not because of civil war or disaster, but a new guest came to Tibet without invitation and controlled everything. His Holiness the Dalai Lama reiterated his position on the future status of Tibet. "We are not seeking separation but are committed to remain within PRC," said he.
In response to a question, His Holiness the Dalai Lama said, "I don't know the answer." There was a big applause from the audience.
A young woman asked His Holiness the Dalai Lama, "What is the purpose of life?"
"A happy life," said His Holiness without any hesitation. "Future is uncertain but we remain with hope. Once hope is lost, the very life is shortened. Hope means something good. The very purpose of life is happiness."
Following the public talk, His Holiness spoke to the members of the press. There were 168 accredited journalists with over 35 journalists from the neighbouring countries.
His Holiness receives the key to the city from the mayor of Maribo
r.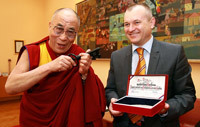 In the morning His Holiness the Dalai Lama met with the Mayor of Maribor Mr. Franc Kangler in his office. The Mayor presented His Holiness the Dalai Lama, Maribor City's key. After the meeting, His Holiness planted a Tree of Peace at the City Park. In his address to the people gathered at the City Park, His Holiness the Dalai Lama said that violence, bloodshed and war is out of date. The 20th Century was the century of bloodshed and 21st century should be a century of dialogue. Then His Holiness addressed over 1,000 students of the Maribor 1st High School on human values.
His Holiness the Dalai Lama met with Mr. Janez Janša, former Prime Minister and president of the Slovenian Democratic Party before lunch. "We are very honoured by your visit", said Mr. Janez Janša.
Hundreds of people and at least over 50 journalist including video and cameramen waited for His Holiness the Dalai Lama wherever he went during the day's public program.