Washington, DC. USA, 18 February 2010 (By Foster Klug, Associated Press) - President Barack Obama welcomed the Dalai Lama for closely-watched White House talks Thursday, risking fallout in China over the get-together and Obama's statement supporting preservation of Tibet's identity and human rights.

"The president commended the Dalai Lama's 'Middle Way' approach, his commitment to nonviolence and his pursuit of dialogue with the Chinese government," White House press secretary Robert Gibbs said after the more than hour long private meeting.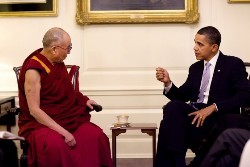 President Barack Obama meets with His Holiness the Dalai Lama in the Map Room of the White House February 18, 2010. (Official White House Photo by Pete Souza)
Speaking to reporters on the White House driveway, the Dalai Lama declared himself "very happy" with the session. The exiled Tibetan leader said he spoke to Obama about the promotion of human value, religious harmony, a greater leadership role for women around the world and the concerns of the Tibetan people. He said Obama was "very much supportive."

Obama's largely symbolic meeting with the Dalai Lama was kept low-key by comparison to other visiting leaders, out of deference to China. With Beijing considering the Buddhist monk a separatist, Obama doesn't want to overly anger China at a time when its cooperation is needed on nuclear standoffs with Iran and North Korea, climate change and other priorities.
So Obama sat down with his fellow Nobel Peace Prize laureate in the Map Room rather than the much-more-photographed Oval Office where presidents usually visit with international leaders. Their talks were held entirely out of view of cameras and the public. Instead, the White House only released just a single White House photo.

Even the description the White House press office gave reporters of the talks was done on paper.

All these gestures — small to many but important in the supersensitive world of diplomacy — were meant to tamp down China's displeasure that Obama was holding the meeting in the first place.

"The optics of this thing are incredibly important to the Chinese," said Michael Green, former President George W. Bush's senior Asia adviser. "The Chinese government is preoccupied with protocol and how things look."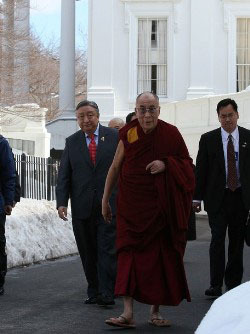 His Holiness The Dalai Lama walks out of the White House on February 18, 2010 in Washington, DC. The Dalai Lama spoke to reporters briefly after meeting with U.S. President Barack Obama for the first time. (Photo by Mark Wilson/Getty Images)
It may not seem inflammatory to Americans accustomed to presidential meet-and-greets of many shapes and sizes. But a Dalai Lama-Obama appearance held in public would enrage China, which believes that official foreign contact with the monk infringes on Beijing's sovereignty over Tibet. Although the Dalai Lama is revered in much of the world, Beijing accuses him of seeking to overthrow Chinese rule and restore a feudal theocracy in the expansive mountainous region. The Dalai Lama and analysts say that is untrue.
Still, China's feelings matter because relations between Washington and Beijing have been strained for years, most recently because of the Dalai Lama's visit and the Obama administration's approval of a multibillion-dollar arms sale to Taiwan, the self-governing democratic island that China claims as its own.

At the same time, Obama has to balance China's views against criticism from U.S. lawmakers and activists that he buckled to China too much already on the topic, by not meeting with the Dalai Lama when he came to Washington in October.
The Dalai Lama has met with U.S. presidents for the past two decades, mostly in private encounters.

The Dalai Lama's envoy, Lodi Gyari, said even a private meeting with Obama is a boost for Tibetans feeling marginalized by China. Green said just the "fact that they spend time together in an intimate setting means everything for the Tibetan cause."

Charles Freeman, an analyst at the Center for Strategic and International Studies think tank, said that while he does not believe Thursday's meeting will cause lasting damage to U.S.-China relations, short-term repercussions could include a postponement of Chinese President Hu Jintao's expected visit to Washington in April.

Despite China's angry words, recent U.S.-China tension may be easing. On Wednesday, five American warships were allowed to dock for a port call in Hong Kong, a possible indication that Beijing does not want relations with Washington to worsen.