Nubra Valley, Ladakh, J&K, India, 23 July 2010 (tibetonlinetv.com) - After presiding over a Buddhist philosophical debate at a school in Ladakh yesterday, His Holiness said it is right to describe Buddhism as the precious gem of this world in general, and as the symbol of Himalayan regions in particular. Therefore, it is not only the monks and nuns, but that of lay people's responsibility to study the teachings of Buddha, he added.

Tibet has been undergoing great difficulties for the last 60 years, said His Holiness, expressing hope that the changes taking place in the world in general and China in particular would gradually bring positive change in Tibet.

His Holiness the Dalai Lama reminded the people of Himalayan regions of their bounden duties to make use of the freedom and opportunity to study and preserve Tibetan Buddhism, which he said is passing through a difficult phase in Tibet.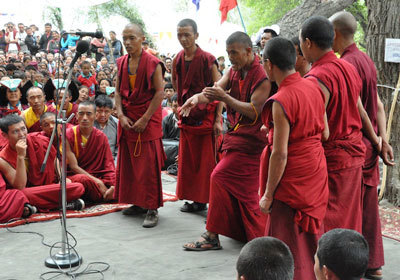 Since the Tibetan Buddhism is a common religion followed by both Tibetans and the people living in Himalayan regions, the latter should make great efforts to preserve the whole set of teachings and commentaries of Buddha and Nalanda masters, His Holiness said.

Monks debate on Buddhist philosophy during His Holiness the Dalai Lama's visit to Samgon Jamtse Thosamling school in Ladakh. The debate was organised by Samgon Jamtse Thosamling School in its effort to follow the guidance of His Holiness the Dalai Lama in promoting Buddhist teachings. The participants asked many questions during the debate which focused on role of the people of Himalayan regions in sustaining the rich Nalanda traditions and how to become a genuine 21st century Buddhist.
In his address to the gathering, His Eminence the Gaden Tripa Rizong Rinpoche spoke about the remarkable life histories of His Holiness the 14th Dalai Lama and his predecessor, the Great 13th Dalai Lama.

There are presently 45 students at Samgon Jamtse Thosamling School and those students completing class VIII from this school are send to three major learning centres of Tibetan Buddhism in South India. Established in 1998, the school imparts modern education like computer courses in addition to classes on Buddhist dialectics.
The students took part in a debate on Buddhist philosophy during visit His Holiness the Dalai Lama's previous visit to the school in 2003.Geshe Yeshi Gyaltsen, who teaches Buddhist dialectics at the school, said: "in accordance to advise of His Holiness the Dalai Lama on the responsibility of preserving Buddhism in its pristine form by the people of Himalayan regions, the religious debate organised today was meant to be followed in other schools in future.
His Holiness the Dalai Lama departed Samtenling Monastery for Yarma Gonpo Monastery on 23 July.