San Jose, California, USA, 11 October, 2010 - His Holiness the Dalai Lama arrived in San Franciso, California, late this morning, to begin his visit to the United States and Canada.
His Holiness the DalaiLama is greeted on his arrival in San Jose, California, on October 11th, 2010. Photo/Lobsang Wangdu
On his arrival at the airport, he was received by Kasur Lobsang Nyandak Zayul, Representative of H.H. the Dalai Lama to the Americas, and a representative of the Indian Consulate. His Holiness then drove to the town of San Jose, the venue of his programs for the next two days.

On his arrival at the hotel in San Jose, he was received by Venerable Thupten Donyo of the Gyuto Vajrayana Center, Khensur Rinpoche Lobsang Jamyang of the Geden Shoeling Tibetan Manjushri Buddhist Center, officials of Stanford University, who are all organizers of the events in San Jose and Palo Alto, President Kaydor Aukatsang, and General Secretary Tsedup of the Tibetan Association of Northern California. Kasur Tenzin Namgyal Tethong and Kasur Pema Chhinjor and a host of Tibetans and other supporters from the San Francisco area were also at the hotel to welcome His Holiness.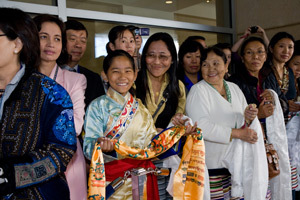 Members of the Tibetan community in California wait to greet His Holiness the Dalai Lama. Photo/Lobsang Wangdu
His Holiness is accompanied by Secretary Tenzin Taklha and Secretary Tsegyam for this visit. He will be visiting California, Georgia, Ohio, Toronto (in Canada) and Florida during this trip.
In addition to Buddhist teachings on October 12 and 13, His Holiness will be spending two days at Stanford University where he will participate in a series of programs entitled: Compassion, Science, & Society.
Following are details on the programs in California.
October 12, 2010:
Morning: Audience for Northern California Tibetans at the San Jose Convention Center.

Afternoon: Lecture on Eight Verses on Transforming the Mind: Awakening the Heart of Compassion at the San Jose Convention Center. The lecture wil be translated into English; additional translations are available in: Chinese, Vietnamese, Mongolian, and Spanish.

October 13, 2010:
Morning: Amitabha Initiation at the San Jose Sate University Center. Translation will be available in Chinese and Vietnamese, in addition to English.

October 14, 2010
Morning: Public Talk: The Centrality of Compassion in Human Life and Society in Stanford University, Palo Alto

October 15, 2010:
Conference: Scientific Explorations of Compassion and Altruism.

The organizers of the programs in Stanford University have announced that as demand for tickets exceeded availability, they programs will be broadcast live. Please visit http://dalailama.stanford.edu/ for details