Tokyo, Japan, 6 November 2010 - His Holiness the Dalai Lama arrived at Tokyo Narita Airport safely this morning. Mr. Lhakpa Tshoko, Representative of Liaison Office of His Holiness the Dalai Lama for Japan East Asia and Executive members of Junior Chamber International Osaka welcomed and received him with a khata, a Tibetan ceremonial scarf.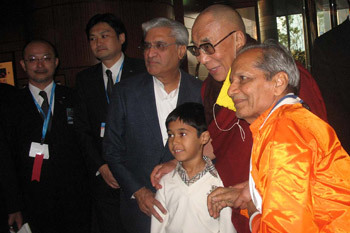 His Holiness the Dalai Lama takes time for a photograph with well-wishers on his arrival in Japan on November 6th, 2010. Photo/Ngawang Thogmed
Junior Chamber of International Osaka has invited His Holiness the Dalai Lama to address one of their main events this year, in which around 5,000 people are scheduled to attend. The world summit of Nobel Laureate has also invited His Holiness the Dalai Lama to attend the 11th World Summit of the Nobel Peace Laureates at Hiroshima.
On his way to Haneda airport for the flight to Osaka city, His Holiness met briefly with some Japanese media. On being asked about the students demonstration in Tibet on the Tibetan language issue, His Holiness said that the Tibetan language is a very rich language which can go along with the ancient Sanskrit language. "Tibetan translations of Buddhist literature are considered very authentic. Chinese authority has imposed the Chinese language as medium of instruction in Tibetan schools which caused the demonstrations. Politically we are not seeking separation. Tibetan language, Buddhist philosophy, science and religion is very rich. We love our language and we are proud of our language," His Holiness said.
When asked about his opinion on the election and situation in Burma, His Holiness said that Burma is a very good Buddhist country and many important Buddhist lineages had also come from Burma. "But the current political situation is rule by military Junta. II,along with many other Nobel Laureates, even the UN General Secretary, have appealed to the authorities to release Aung San Suu Kyi, but nothing has happened. It is very sad. One time I appealed to the authorities saying that you are Buddhist and you should put the Buddhist teaching into practice," said His Holiness.
On Liu Xiaobo winning the Nobel Peace Prize, His Holiness said he has always appreciated the contribution made by Mr Liu in trying to bring openness, democracy and accountability in China. "This is good for China in the long run. China has become strong, but to make a significant contribution in this world, it should gain the trust of its people and people around the world. Censorship is immoral, 1.3 billion Chinese people have the right to know," said His Holiness.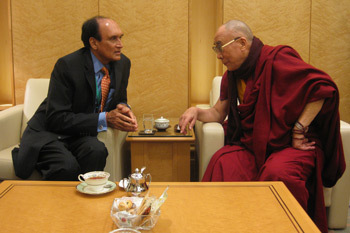 His Holiness the Dalai Lama meets with the Indian Ambassador to Japan H.E. Hemant Krishan Singh during his brief stop in Tokyo on his way to Osaka on November 6th, 2010. Photo/OHHDL
On his recent statement on retirement, His Holiness said that the four century old tradition of the Dalai Lama holding the temporal and spiritual power came to an end in 2001, when the Tibetans in exile adopted democracy and elected its own political leader, Kalon Tripa. "Whether the Dalai Lama is needed or not will be decided by the Tibetan people. But at this age, I think I have a right to retire," said His Holiness with a mild laugh.
His Holiness and the entourage reached Osaka city this evening. Starting from Osaka, in the following nine days, His Holiness will visit Nara city, Niihama, Shikoku and Hiroshima.