His Holiness is greeted by members of the Tibetan community on his arrival at Narita Aiport. Photo courtesy/Taikan Usui
Tokyo, Japan, 18 June 2010 (By Tsering Tsomo), phayul.com) - His Holiness the Dalai Lama arrived in Tokyo this morning for a week-long visit to Japan. He was warmly received at the Narita International airport by Japanese supporters of Tibet; staff of the Liaison Office of His Holiness the Dalai Lama in Tokyo; representatives from the Tibetan community in Japan; and the Protocol Officer from the Indian Consulate. Four administrative officials from the Nagano-based Zenkoji Temple were also among the group that received His Holiness at Narita airport.
Mr. Seishu Makino, member of the Japanese parliament and president of the Parliamentary Group for Tibet received His Holiness at the Marunouchi Hotel where His Holiness will stay for a day and a half. Later in a brief interview with reporters, Mr. Makino said compared to a decade or so ago, awareness about Tibet and support for the Tibetan people's peaceful movement have grown manifold although he acknowledged that popular support has yet to materialize into concrete political actions due to the increasing influence of the Chinese economy. "Support for Tibet is quiet but growing," he said through his secretary-cum-interpreter, Ms. Suzuki.
His Holiness is greeted by members of the Nagano Zenkoji Temple on his arrival at Narita Airport. Photo courtesy/Taikan Usui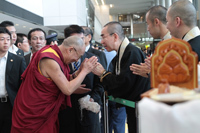 As a longtime activist for democratic change in China, Mr. Makino said he is still hopeful that change will come to China. He talked about two potential forces of change - the sustained international pressure on China to democratize and the growing cases of democratic dissidence in China itself - that could have a significant impact on China's future in the coming years. "There is a need for these two forces to join hands so change could also come to China," he said.

Mr. Lhakpa Tshoko, representative of His Holiness the Dalai Lama in Tokyo said the current visit of His Holiness reflects the unprecedented surge in popular support for Tibetan people's cause especially among Japanese Buddhists and Japanese youth. He said awareness about the Tibetan situation touched a new high since 2007 and particularly in 2008 when the priests at the Zenkoji Temple refused to host the the Beijing Olympic torch relay citing China's continued repression of Tibetan Buddhists. Mr. Tshoko said this gesture from Zenkoji's highest authority is an active expression of solidarity from Japanese Buddhists to Tibetan Buddhists.

His Holiness will attend a press conference tomorrow morning at the Foreign Correspondents Club of Japan before moving to Nagano in the afternoon. In his week-long visit, His Holiness will give a series of religious talks and lectures in Nagano, Kanazawa and Yokohama.

This is the 14th visit of His Holiness the Dalai Lama to Japan.