Maribor, Solvenia, April 7th, 2010 - Slovenian Cabinet Minister Dr. Boštjan Žekš called on His Holiness the Dalai Lama on behalf of the Prime Minister this morning at the hotel.
His Holiness speaking at the Slovenian National Theatre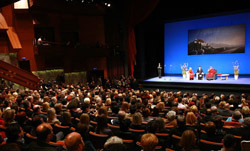 Then His Holiness the Dalai Lama left for Slovenian National Theatre in Maribor and spoke on Compassion: The Art of Happiness.This address was organised by the European Academy of Sciences and Arts and Maribor University. The address was broadcasted live on a local TV channel. "Compassion is not feeling pity", said His Holiness the Dalai Lama. He further said that the practise of compassion is good for others and for oneself. It is important to think more about other's welfare and it would bring more happiness in one's life.
After the public talk, His Holiness the Dalai Lama blessed the Avalokiteshvara (the Buddha of compassion) sand mandala constructed by the Gyuto monks at the Maribor Fort. The mandala was constructed as part of a fortnight of Tibetan cultural programmes in Maribor.Mufti dr. Nedžad Grabus, the head of the Slovenian Muslim community called on His Holiness the Dalai Lama at the hotel before His Holiness left Slovenia for Zurich, Switzerland.
His Holiness is greeted on his arrival in Zurich in traditional Tibetan style. (Photo courtesy/Manuel Bauer)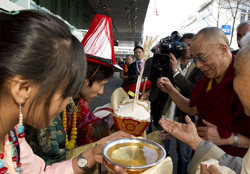 On his arrival in Zurich, a large number of Tibetans welcomed His Holiness at the Hyatt Park Hotel. The members of the Tibetan Community's cultural dance group performed the traditional welcome dance Tashi Sholpa.
Tomorrow His Holiness will visit the Tibetan Institute in Rikon and address the Merci Schwiiz (Thank You Switzerland) gathering.