Budapest, Hungary, 19 September 2010 - This evening His Holiness the Dalai Lama concluded two days of Tibetan Buddhist teaching in Budapest. All 22,400 tickets were sold out for the two days event and an additional 45,000 people watched the live webcast over the weekend.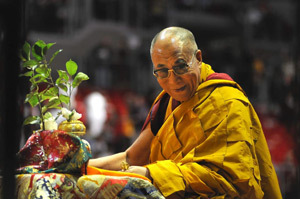 His Holiness the Dalai Lama during the preparation for the Avalkiteshvera Initiation. Photo/Gáti Kornél
During the Avalokiteshvera (Buddha of Compassion) Initiation this morning His Holiness the Dalai Lama said, "When you mediate, try to think of kindness and warm heart. Try to develop them."
In the afternoon, His Holiness the Dalai Lama spoke on Compassion: The Art of Happiness. In his address, His Holiness said anger, fear and mistrust makes it difficult for human beings to carry out our normal function. He said a more altruistic feeling is best for good health and peace. This way we can promote good human values.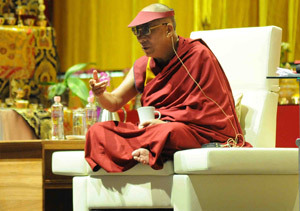 His Holiness the Dalai Lama making a point during the Public Talk "Compassion - The Basis for Happiness".
Photo/Gáti Kornél
His Holiness answered questions from the audience including one or two questions gathered from those watching the live webcast of the teachings and public talk.
The Indian Ambassador and the Mongolian Ambassador for Budapest as well as Vienna called on His Holiness the Dalai Lama today.

Tomorrow His Holiness the will visit the Hungarian Parliament.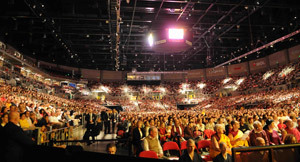 11,200 people attend His Holiness the Dalai Lama's Public Talk "Compassion - The Basis for Happiness". Photo/Gáti Kornél