Nubra Valley, Ladakh, J&K, India, 26 July 2010 (tibetonline.tv) - His Holiness the Dalai Lama blessed a newly installed Maitreya statue during a ceremony at Ladakh's Disket Monastery (Dekyi Gonpa in Tibetan) on Sunday.
Dressed in their best traditional costumes, a large number of local people attended the ceremony during which many important dignitaries including His Eminence the 102nd Gaden Tripa, J&K Chief Minister Omar Abdullah and Thiksey Rinpoche were present.
The 100 feet high statue of Maitreya (Gyalwa Jampa) was built at a cost of around Rs 2 crores with the collaboration of Disket Kunrog Tsogpa and Disket Jamgon Sarsheng Nyamrog Thundel Tsogpa.
While laying the foundation stone in 2007 His Holiness the Dalai Lama had said he has started the construction work and would give the final touch by blessing the statue on its completion.
According to Thiksey Rinpoche, the Maitreya statue was installed to help spread the teachings of Buddha in general, for the long life of His Holiness the Dalai Lama and to ward off epidemics and calamities. It was also aimed to sustain peace in the Nubra valley which is located on the borders of China and Pakistan, he added.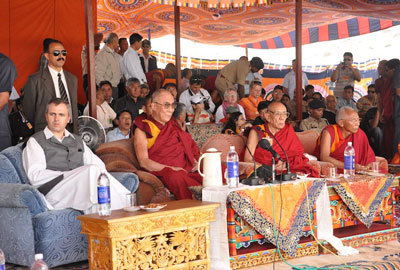 His Holiness the Dalai Lama seated with Gaden Tripa Rizong Rinpoche, Thiksey Rinpoche and the Chief Minister of Jammu & Kashmir State, Omar Abdullah during the inauguration ceremony of the new Maitreya Buddha Statue at Disket Monastery in the Nubra Valley.
In his address, His Holiness the Dalai Lama praised the efforts made in the successful installation of the Matireya statue. His Holiness underlined that one should have the motivation of love in the heart on hearing the name of Maitreya.
His Holiness expressed his appreciation for the progress made in health, education and keeping spiritual vows and disciplines in the monastic learning centres due to the efforts of many concerned officials in Ladakh.
Speaking of crucial environmental issues, His Holiness said each and every individual of the community should have awareness about the problems of global warming, which he said is related to the happiness and well-being of the whole world. His Holiness said his friend, named Bahuguna, had given him the responsibility to speak about environment preservation wherever he visits in the Himalayan region. Appealing to the local people to take responsibility in protecting the environment, His Holiness said people living in the Himalayan region should focus on tree plantation, which he said would add to the landscapes' greenery and bring peace and happiness of mind in the day to day life.
Chief Minister Abdullah said the blessing of the Maitreya statue would bring peace and happiness not only to Nubra valley but also to the whole world including India and the entire Indian Jammu & Kashmir state. He stated that it was very fortunate that members of four generations of his family had received the opportunity to meet His Holiness the Dalai Lama.