Atlanta, Georgia, USA, 16 October 2010 - His Holiness the Dalai Lama left Palo Alto on October 16th morning, arriving in the city of Atlanta in Georgia in the afternoon.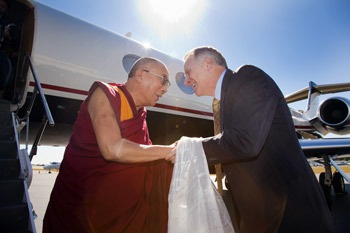 He was received at the airport by Emory University's President Dr. James W. Wagner, Dr. Earl Lewis, Provost and Executive Vice President for Academic Affairs; Dr. Gary S. Hauk, Vice President and Deputy to the President; Dr. Rosemary M. Magee, Vice President and Secretary of the University, Robert A. Paul, former Dean of Emory College, and others.
His Holiness first went to consecrate the newly constructed temple of the Drepung Loseling Institute in Atlanta. On his arrival at the Institute, His Holiness was received by the 102nd Ganden Tripa Kyabje Rizong Rinpoche and members, staff and guests of the Institute. His Holiness was led into the temple to the sound of Gyaling.
In a brief ceremony, Loseling monks led in the recitation of a prayer dedicated to the long life of H.H. the Dalai Lama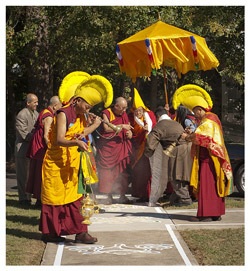 Thereafter, Geshe Lobsang Tenzin, president and spiritual director of Drepung Loseling Monastery, Inc., gave an update on the Institute's status and three main objectives, which are: to contribute to North American culture by providing theoretical knowledge and practical training in Tibetan Buddhist scholarly traditions for Western students, scholars and the general public; to provide spiritual programs for people interested in the Tibetan Buddhism and to help preserve Tibetan culture, and support the Tibetan refugee community.
In his address, His Holiness referred to the ongoing research and dialogue between Tibetan Buddhists and scientists saying that during his previous visit to the United States he had dialogued with scientists in University of Wisconsin in Madison and that he had just had another dialogue with scientists in Stanford University. Emory University will be holding another such dialogue in the coming days.His Holiness suggested that the Institute think of providing facilities to those interested in the practice of Tibetan Buddhism.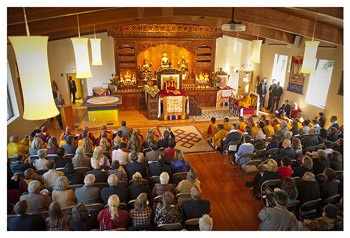 Referring to Geshe Lobsang Tenzin, His Holiness said when he and three other boys from Kinnaur (in Himachal Pradesh state of India) had come to study Tibetan Buddhism, they were quite young. Geshe Lobsang Tenzin first studied at the Tibetan Institute of Dialectics in Dharamsala and subsequently at the Loseling Monastery in Drepung acquiring his Geshe degree. His Holiness praised him saying that the young boy has now grown and acquired enough capability to hold tremendous responsibility.
His Holiness then left for his hotel where a crowd of Tibetans and other friends and supporters of the Tibetan people had gathered to welcome His Holiness to Atlanta.
From October 17 to 19, 2010, His Holiness will visit Emory University in his capacity as its Presidential Distinguished Professor. This is the first university appointment accepted by His Holiness. He will participate in a series of public events, including programs on science research and meditation, creativity and spirituality, an interfaith dialogue and a teaching for the Buddhist community on compassion.