San Jose, California, USA, 13 October 2010 - On his second day of program in California, His Holiness spent the morning on October 13, 2010 at the San Jose State University Event Center to bestow the Amitabha Initiation at the request of the Geden Shoeling Center. In the afternoon, His Holiness drove to the nearby town of Palo Alto where he interacted with around 300 students under the Ravenswood school districts and thereafter provided comfort to ailing children housed by the Ronald McDonald House.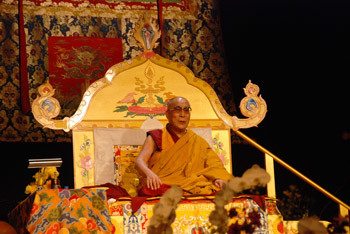 His Holiness the Dalai Lama during the teachings in San Jose, California on October 13th, 2010. Photo/Geden Shoeling
In the morning, on his arrival at the stage in the San Jose State University Event Center, U.S. Congressman Michael Honda, who represents San Jose and nearby areas in the United States House of Representatives, welcomed His Holiness the Dalai Lama.
Representative Honda, who is a member of the House Appropriations Committee and Chair of the Congressional Asian Pacific American Caucus, said the local community's values of diversity, ethnic and religious tolerance, and compassion for all are deeply embedded in the way they approach conflict and address injustices. He added that these are thesame values reflected in Buddhist tradition, culture and practice.
Congressman Honda said, "I remember your acceptance speech upon receiving a very well deserved U.S. Congressional Gold Medal in 2007," adding, "You attributed your character and sense of morality to your compassionate mother as well as your teachers and housekeepers who taught you how to be kind, honest and caring."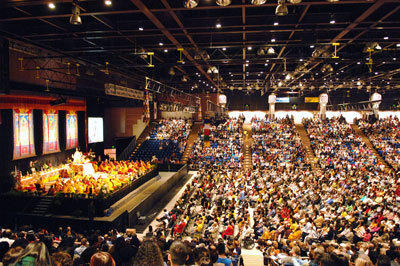 San Jose State Event Center, venue for His Holiness the Dalai Lama's teachings on October 13th, 2010. Photo/Geden Shoeling
He said that at a time when the United States was facing a difficult time, "His Holiness' spiritual message is most powerful."
Congressman Honda concluded, "Today, I thank you, Your Holiness, the Dalai Lama, for bringing this profound message of compassion to Santa Clara County and remind us to be kind and caring in a time where our society needs it most."
The program then began with the recitation of the Heart Sutra and other prayers in Vietnamese. Thereafter, His Holiness began by first reiterating what he had always been telling people, namely that it is much better to keep to one's own tradition. He talked about keeping to one's faith but respecting all other religious traditions.
His Holiness then detailed the historical development of Buddhism. He suggested to the audience numbering more than 5000 (majority of whom are Buddhists) that they should study Five Stages, the scripture of the Buddhist master Nagarjuna, and Compendium of Practices by another master Aryadeva.
His Holiness then bestowed the Amitabha Initiation.
After having lunch at the Event Center, His Holiness departed for Palo Alto, about 25 minutes drive from San Jose. He first visited the Castano Elementary School, where around 300 eighth graders of the Ravenswood school district had gathered to interact with His Holiness. Mr. Tom Nazario of the Forgotten International, a nonprofit organization helping people in extreme poverty, who had initiated this interaction, gave a welcome remark in which he talked about how His Holiness had impacted his life.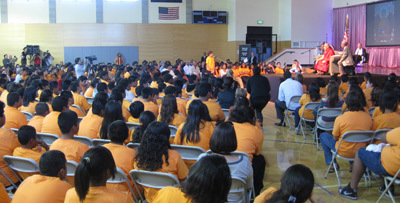 His Holiness the Dalai Lama answering a question from a student

during his interactive session with students from several schools at
Castano Middle School in East Palo Alto, California. Photo/OHHDL
Thereafter, His Holiness responded to questions selected from among the submissions by the students.
In response to a question on why in his case a child was chosen to lead the country instead of a wiser and more experienced person, His Holiness first joked that this was because a child was above controversy and was innocent. He then explained the historical development of the institution of the Dalai Lama, Tibet's modern history and how he came to assume spiritual and temporal authority two years earlier than when the 13th Dalai Lama had done, his efforts at reforming the Tibetan society beginning in 1952 and how he is now in semi-retirement after the institution of elected leadership in 2001.
To a question on what advice he had for young people, His Holiness talked about the 20th century being a century of innovation but the development being only in the external fields. He repeated his message for the need of cultivating inner values like compassion and affection saying that education for the development of the brain alone was not sufficient. He said that peace must come from within and that through true inner peace can we bring about a change in the society.
His Holiness said he belonged to the 20th century and that the students were people who belonged to the 21st century and that they had the opportunity and the responsibility to bring about positive change in this century.
His Holiness was asked about his views on other religions and racism. He gave a description of how his self-identification developed as he grew up. As a child, the only identity was that of the primary level of being a human being. There was no religious or other identification known to him then. As he began growing, he acquired the secondary identification of being a Buddhist and subsequently of being the Dalai Lama. He said there was, thus, different awareness at different points of time.
His Holiness said on account of too much emphasis on the secondary level of identification problems resulted among people whether on the basis of religion or race. He said people some times sacrificed the primary level of identification for the sake of the secondary level.
When asked whether world peace is really achievable, His Holiness said he believed that the basic human nature was one of gentleness. Whether one is a believer or not, the importance of compassion is clearly understandable and he said there was the possibility of making this world a more compassionate place. He said he had dedicated his life towards the promotion of compassion.
In response to a question on how one should deal with sadness, His Holiness said people should take a holistic approach. He said everything is not negative and that the same issue that one perceives as negative from one angle may have a positive aspect from another angle.
His Holiness was asked to look back at his life, in another question, and to reflect on something that he had done. He talked about the time when he was between the ages of 11 and 15 when he did not have any political responsibility and the Chinese were yet to enter Tibet. He said he had much free time then but because of his laziness he had not availed himself of the opportunity of deep study then. He, however, said he cannot get back that time now.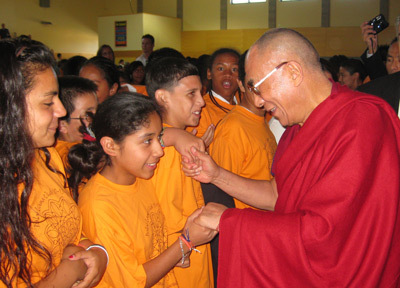 His Holiness the Dalai Lama shaking hands with students after
his interactive session at Castano Middle School in East Palo Alto, California. Photo/OHHDL

His Holiness urged the young children to realize the importance of study and the prime time being now. He said play was important for exercise, but advised the children to take study more seriously. He talked of knowledge being at three levels. The first level is listening to the teachers and reading by oneself. He said this level was not enough to really educate oneself as there will be the absence of reason and analysis of what the teacher has said or what is in the books. The second level then was to analyze and reflect on what one has acquired at the first level. Thereafter, the third level of acquiring knowledge was familiarization when one can comprehend ideas.
The last question His Holiness answered was on what he liked being a monk. His Holiness said that a monk's life was simpler and less stressed with worldly concerns of family life. Thus one had more time as a monk. He added that this was just a monk's view and that there could be a different perspective by others.
Following the session, His Holiness met each of the people who asked the questions and others who had won essay contest that the schools had organized.

Prior to His Holiness' arrival the students were given a taste of Tibetan cultural performances by some local Tibetans.

His Holiness's next program for the day was a moving visit to the Ronald McDonald House at Stanford, which creates a home-away-from-home and supportive community for families of children with life-threatening illnesses receiving specialized treatment at local hospitals. His Holiness greeted each of the children in the House and addressed the gathering, which included parents of the children and benefactors and offered them some words of advice.
His Holiness suggested that although it is sad that children who had much potential to contribute have been struck with illness, people could look at this in a holistic manner. Just looking from one angle will only mean sadness and nothing else. He said that whenever he was faced with
situations the words of an Indian master, Shantideva, brought much comfort. Shantideva had said that if something can be rectified there is no need to worry while if it cannot be rectified there was no use of worrying. His Holiness called this a realistic approach.

His Holiness said he wanted to make a suggestion to the people to think of consulting Tibetan medicine practitioners. He said it has been well established that Tibetan medicine was effective in many ailments where allopathic treatments did not provide relief. He said the House could be
in touch with the Office of Tibet and that arrangements could be considered for sending Tibetan physicians here.

"We are truly grateful to the Dalai Lama and the efforts of The Forgotten International to create this unique experience," said Honey Meir-Levi, executive director, Ronald McDonald House at Stanford, in a statement. "The visit is an extraordinary honor, one that will have a profound impact on the hope and courage of children and their families."

Among the children were two Tibetans, a Tamang, and some Indians, one of whom had rescheduled his surgery (scheduled for today) as he wanted to see the Dalai Lama first.

As His Holiness left the House, he thanked the staff for running this place.
His Holiness will be visiting Stanford University on October 14, 2010 for a series of programs. His public events are being webcast and details can be had from http://dalailama.stanford.edu.