Yokohama, Japan, 27th June 2010 (Tibet House, Japan): His Holiness the Dalai Lama visited Sojiji, the main Temple of Sotoshu school of Japanese Buddhism this morning. As requested by the Temple, His Holiness spoke on "Peace and Religion" at the mail prayer hall of the temple to the crowd of 1700 people consisting of monks, students and general public.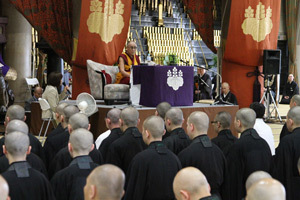 His Holiness the Dalai Lama speaking at Sojiji Temple in Yokohama, Japan on June 27th, 2010. Photo/Taikan Usui
His Holiness said that the Buddhism dates back to 2500 years, it is still valid, and interest in the religion has increased in recent years. "Peace in this world has to start from the people's heart, we should first have inner peace in ourselves. This inner peace can be achieved by practicing love, compassion and service to other. All the major world religions speak of the same message, but in the past we have experienced violence among the religions. The reason behind this violence is that people emphasized importance more on differences than in practicing the real messages of the respective religions. Therefore, we need to study and practice sincerely so that we become 21st century Buddhists." said His Holiness.
Giving Mother Teresa as an example of a true practitioner, His Holiness said if you study and practice sincerely, there will be no time for differences. "Just as one medicine cannot cure all diseases, one religion cannot sustain us all. We should respect others culture and religions, mutual respect is key to a peaceful society."
Speaking on disarmament, His Holiness said, "Military disarmament is important for world peace, but we need to disarm ourselves internally to have a lasting disarmament and peace."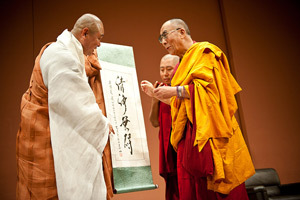 His Holiness the Dalai Lama sits for receives a special scroll from a senior Korean monk in Yokohama, Japan on June 27th, 2010. Photo/Tenzin Choejor/OHHDL
In the afternoon, His Holiness gave audience to some 500 Korean monks and laypeople, who have come all the way from South Korea to attend His Holiness' teaching and talk in Yokohama. The Korean delegation said that Korean Buddhists want His Holiness to visit Korea, but because of the government policy, it has become difficult, so they have come to meet and hear him speak in Japan.
His Holiness expressed his happiness for being able to meet the fellow Korean Buddhist, he said he wanted to visit Korea and other Buddhist nations, but it has become difficult. "We are all followers of same Nalanda Buddhist tradition of India, your enthusiasm in learning the religion is appreciable. But we all need to be 21st century Buddhist, we need to study and practice the religion sincerely. Buddhism should not become a mere ritual ceremony, more than monasteries and statues, we need sincere practitioners and scholars. Faith alone will not help, practice of love and compassion and learning essence of Heart sutra is very important." His Holiness said.
His Holiness also met some twenty Chinese media, scholars and artists based in Japan. "I am very happy to meet you all. I believe that all problems can be solved by meeting face to face and through dialogue. We need to understand each other and have a sincere motivation to solve the difference for mutual benefits. 20th Century has been a difficult century, I very much appreciate President Hu Jintao's policy of "Harmonious society". But harmony should come from mutual trust and through dialogue, it cannot come from fear and through repression. China has made good development materially, but it is lacking in peace, stability and harmony. This is a reality that leaderships must address to." His Holiness said.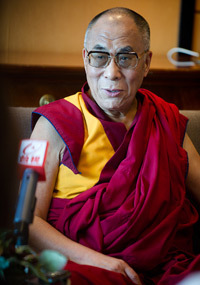 His Holiness the Dalai Lama meets with Chinese media in Yokohama, Japan on June 27th, 2010. Photo/Tenzin Choejor/OHHDL
Chinese media and scholars asked His Holiness' opinion on various issue ranging from concept of greater Tibet to middle path approach, socialism to visit to China. Regarding the concept of "Greater Tibet", His Holiness clarified that this concept is coined by Chinese government only and that the Tibetan side has never asked for greater Tibet. On autonomy, His Holiness said that this is something granted and within the framework of Chinese constitution, "last time when our delegation presented the Memorandum on Autonomy, the Chinese government without discussing the Memorandum, flatly rejected it. We have only asked for the implementation of what is written in the constitution." clarified His Holiness.
Chinese delegation expressed their gratitude for the opportunity to speak with His Holiness, and said that they are now more informed of His Holiness idea and the middle path approach, some suggested that His Holiness' visit to China for a short period would help dispel many misunderstanding.
Completing 10 days of hectic and successful schedules in Japan today, His Holiness will leave Yokohama for India tomorrow.