Tokyo, Japan, 19 June 2010 (Tibet House, Japan) - His Holiness the Dalai Lama met Foreign and Japanese media this morning at Foreign Correspondent Club in Tokyo where he greeted the media by saying "I am happy to be among you once again". His Holiness said that as usual he would like to reiterate his firm conviction in the promotion of "Human Value" in general and "Religious Harmony" among the believers. He said, "many of you have already heard me speak on these principles, but there are many new people also, so I would like to share my feelings with you all."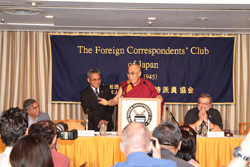 His Holiness the Dalai Lama meets the press at the Foreign Correspondents Club in Tokyo. Photo/Taikan Usui
His Holiness said that we are all the same human beings, we all want happiness and avoid sufferings. "Whatever the position or the identity, whether he is a king or some President, a business man or a beggar, we all have same mental disposition. Happiness that we derive from money and material goods are of temporary nature, we should seek for a lasting happiness which is comes from our inner value. This ultimate source of happiness based on satisfaction and inner value is the basis for a happy life. This promotion of inner value is of utmost importance in order to be happy.
"Secondly, although I am not a perfect Buddhist monk, I try my best to be a good practitioner. All religions including Buddhism preaches love, compassion and forgiveness. They all have the same potential to bring inner peace and create a good human society. If we look only for differences, you will find contradictory philosophy among the Buddhist schools also. So, religious harmony and Ahimsa is very important at societal level. India is a model country in this regard." He said.
His Holiness said that he consider media people as very important because they play very important role in educating the society and in safeguarding freedom and justice. He joked that the media people to have a long nose to poke its nose into the fishy matters and bring out the truth and justice.
In the question & answers time, when asked for His Holiness' opinion about a Chinese official's recent comment in Japan that China never invaded Tibet, His Holiness replied that there are three versions on this issue, Chinese, Tibetan and Independent International lawyers, and it is now up to the media people to investigate and see which one is true and accordingly educate the people.
When asked how he feels about Japanese Prime Minister not meeting him when many other world leaders had openly met him, His Holiness clarified basically except for his visit to Washington and Brussels, his visit are mostly non-political, so not meeting Prime Minister is not a disappointment. He further clarified that his message is promotion of human value and harmony, in this regard, public are more important than political leaders.
About the Sea-shepherd being a violent NGO, His Holiness said the group is trying to protect living beings and environment, this is good, but the method should be non-violent and peaceful. Answering to one question about the growing suicide rate in Japan, His Holiness urged the young Japanese to come out of Japan and explore the world. Medias and the member of Japan Foreign Correspondent Club gave a standing ovation to His Holiness at the end of the press briefing.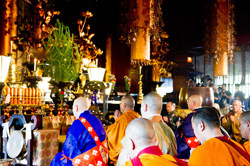 His Holiness the Dalai Lama joining the monks of Zenkoji Temple in prayers for world peace. Photo/Tenzin Choejor/OHHDL
His Holiness and the entourage members left for Nagano city after the press briefing. There he was received by the monks and Nagano people. He was welcomed by the two Chief Abbots of the Zenkoji Temple, with whom he had a light discussion about the Temple and Buddhist teaching. His Holiness visited the main Temple, and along with the Japanese and Tibetan monks and general public prayed for the world peace and for the people who lost their lives in natural calamities and in recent earthquake disaster in Tibet. Surrounding of the Zenkoji Temple was full of people who had come to welcome and to have a glimpse of the Tibetan leader.
Later, His Holiness gave a local press briefing along with the authorities of the Temple. Zenkoji Temple said that the Temple is highly honored and happy to have the Buddhist spiritual leader in Nagano city, and hoped that this Buddhist bond will grow to promote peace and understanding around the world. Zenkoji temple explained that sole reason for refusing Olympic torch was that the Temple couldn't remain oblivious to what was actually happening in Tibet.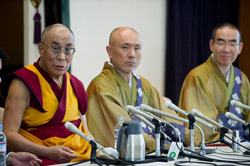 His Holiness the Dalai Lama meeting with the press at Zenkoji Temple in Nagano, Japan. Photo/Tenzin Choejor/OHHDL
When asked about His Holiness' opinion, His Holiness said that he had clarified on several occasions that he was not against Beijing Olympic and had in fact supported it, but the Chinese propaganda has made it look otherwise. "I appreciate the support gesture shown by Zenkoji Temple then, but broadly speaking this is not just a pro-Tibet gesture, this is
pro-justice.
When a Chinese media asked for a message for young Chinese, His Holiness said just as Buddha preached that his should words should not be taken just out of respect for him, like wise young people should not take all the information as true. "Buddha has said that his word should be properly investigated and practiced accordingly. So the young people should properly study and information and investigate before forming his or her own judgment."
His Holiness will address some 7000 monks and general public tomorrow inNagano city. He will also hold close discussion with Buddhist monks on Buddhist teaching.