Yokohama. Japan, 24th June, 2010 (Tibet House, Japan): His Holiness the Dalai Lama left Kanazawa city this morning and reached Yokohama today.

In the afternoon, His Holiness interacted with some hundred Japanese university students and educationists at one of the conference halls at Yokohama Grand Hotel. Mr. Akira Ikegami, a noted journalist and TV commentator was the moderator. His Holiness greeted the gathering, and said that as this 21st century belongs to the young people, he is happy to talk with the young people here.


His Holiness the Dalai Lama speaking to students and educationists in Yokahama on June 24th, 2010. Photo/Tenzin Choejor/OHHDL
His Holiness said that the 20th century has been a century of violence, but the later part of it has made us realize the mistake and the world has become more mature. "During the World War II, Japan has suffered greatly, but out of the tragedy of nuclear bomb, Japanese have come out strongly rebuilding the nation to one of the most develop nations. This is very good, so you are in a very good position to lead the peace movement in this world." He said.
Speaking on the world peace and the current situation, His Holiness said, "although there are problems here and there, overall picture show that our world is getting better. People have began to think of peace, dialogue and environment issues. They have also realized that material development only does not lead to total happiness, they have began to look for inner values and moral ethics. United States and Russia had agreed to reduce nuclear warheads, this is a very good sign. Earlier, nations survived by themselves, today, we have all began to realize that we are interdependent. Concept of war has also changed."
His Holiness gave a brief explanation about his two missions in his life, promotion of human value and religious harmony. During the interaction, His Holiness took questions on different topics and responded accordingly. Speaking on good and bad point about Japan, His Holiness said that he appreciate Japan for its long history, and the traditional Shinto religion, which is based on respecting and preservation of mother nature. He said he is also impressed about the rapid development that the Japan has made despite the tragedy of World War II. About the weak points, he said too much formality may not be good, another more serious thing, he said. "Japan, despite being a developed country, there are many young people suffering from depression and loneliness, this is bad. I suggest that people should look at the things broadly, study English and venture out to help the other less developed nations. Many part of the world need your experience and expertise, if you look beyond your nation, there is no room for depressions and suicides."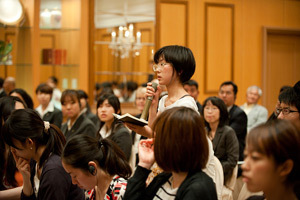 A question for His Holiness the Dalai Lama during the interactive talk in Yokohama on June 24th, 2010. Photo/Tenzin Choejor/OHHDL
When asked about why Tibetan people despite being in difficult situation why they are cheerful and loving to all the living creatures, His Holiness said, "Tibetan culture is a culture of non-violence, culture of peace and compassion. There may be exception, on the whole people are gentle. This gentle culture needs to be preserved. Behind this gentle culture is Buddhist teaching, so application of religious teaching in our day to day life is very important."
On purpose of life, His Holiness said purpose of life is to be happy, happiness derived from material things are temporary. "We should look for inner happiness by being honest and truthful. This will be a lasting happiness. Being warmhearted is important, with this you will began to have a meaningful life. This is key to happiness." He said.
On question about Tibet, His Holiness said that there are three versions, Chinese, Tibetan and one by International committee of lawyers. "If we study these versions, it will be clear who is saying the truth. But past is past, important thing is future. We want to live in a modern Tibet with freedom to practice our culture and religion, autonomous Tibet within the framework of Chinese constitution." He said.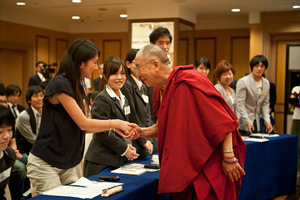 His Holiness greets members of the audience after his talk in Yokoham on June 24th, 2010. Photo/Tenzin Choejor/OHHDL
When asked about the harmonious society policy of Hu Jintao, His Holiness said he very much appreciates Hu Jintao's policy of harmonious society and looked forward to it. "But harmony comes from heart, it should be based on trust and openness. Without trust how can there be harmony in the society. China uses force in the name of harmony, repression and gun don't bring harmony. Chinese authority must realize this reality and act accordingly. Chinese government, if it is people's government, people should have the say and their freedom should be respected." He said.
Kodhansha, a major publishing company in Japan organized this interaction session in collaboration with Tibet House Japan.