Madison, WI, USA, 15 May 2010 - His Holiness the Dalai Lama arrived in Madison, Wisconsin, from Rochester, Minnesota, on the next leg of his current tour of the United States. At Madison airport, he was received by Dr. Richard Davidson of the Center for Investigating Healthy Minds at the University of Wisconsin-Madison's Waisman Center, Geshe Lhundup Sopa of the Deer Park Buddhist Center, and the President of the Wisconsin Tibetan Association.
His Holiness is greeted by members of the Tibetan community on his arrival at Deer Park Buddhist Center. Photo courtesy/Sherab Lhatsang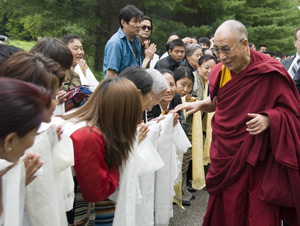 On his arrival at Deer Park Buddhist Center, the Tibetan community members as well as others had lined up along the road to welcome His Holiness. His Holiness walked along the path responding to greetings from the people as young children performed the ceremonial Tashi Sholpa and sang songs of welcome. Upon arrival at his residence, Geshe Lhundup Sopa made the ceremonial Mandala offering to His Holiness.
Earlier, His Holiness had undergone his annual medical check up in Rochester and the doctors have found him in excellent health.
His Holiness will be beginning his program in Madison at the University of Wisconsin on May 16, 2010.