Miami, Florida, USA, 25, October, 2010 - His Holiness the Dalai Lama left Toronto on October 25, 2010 arriving in Miami, in Florida State of the United States, in the afternoon. He was received in Miami by representatives of Florida International University and University of Miami, which are organizing his talks on October 26. Representatives of Nova Southeastern University, Florida Atlantic University and Broward College, which hosted His Holiness in the past, were also there. Ven. Tenzin Dhonden, who has coordinated this visit, received His Holiness at the airport.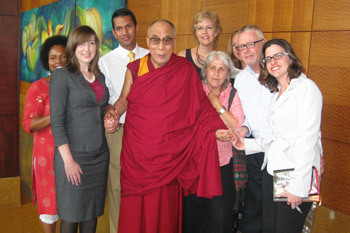 His Holiness the Dalai Lama meets with members of Amnesty International in Miami, Florida, on October 25th, 2010. Photo/OHHDL
In the afternoon, His Holiness met briefly with some members of the Miami chapter of Amnesty International. He informed them about how Amnesty International is an inspiration to many people throughout the world for its work on human rights.
Thereafter, he attended a reception organized by Florida International University's Department of Religious Studies.
On October 26, 2010, His Holiness will give a talk on the "Significance of World Religions" at an interfaith event in the morning and on "The Quest for Happiness in Challenging Times" in the afternoon. Both events will be webcast live at
http://webcast.fiu.edu/
(morning program) and
http://www6.miami.edu/dalailama/index.html
(afternoon program).