New York, NY, USA, 21 May 2010 - His Holiness began his third day of visit to New York City by agreeing to be interviewed by Chinese writer Wang Lixiong on the social network forum, Twitter.
Wang informed His Holiness that he had started preparing for this interview on May 10 by inviting people to submit their questions on Google Moderator and also to vote on their preferred questions. He said altogether there were 1253 people who posed 289 questions with 12473 votes revealing preferences and their results are the questions that he would be posing today. Wang hoped that as all questions may not be able to be touched today there would be occasions in the future for His Holiness to answer them.
His Holiness greets well-wishers on his way to Radio City Music Hall. Photo courtesy/Herman Velez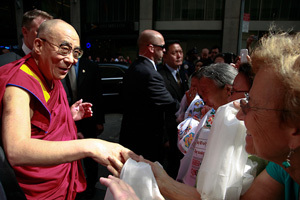 Before he asked the questions Wang Lixiong invited His Holiness to make an opening remark. His Holiness said he greatly appreciated Wang Lixiong's tremendous effort in recent times to present this forum for a direct people-to-people contact. He said he has been saying that the Tibetan dialogue process with the Chinese Government is not seeing any movement as the Chinese Government is solely bent on stating its views without making any effort to listen to us. He said he was greatly concerned by this. However, he said he always had a faith in the Chinese people. They are people who can ponder on the reality of the issue, he said. Therefore, it is good that we are having this opportunity today to interact with the Chinese people, His Holiness added.
His Holiness teaching at Radio City Music Hall. Photo courtesy/Herman Velez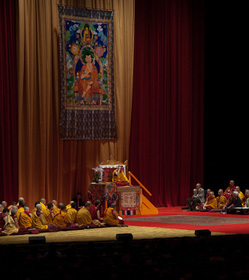 Following the interview, His Holiness left for Radio City Music Hall to continue his teachings. On the way, His Holiness granted an audience to a group of Tibetans who informed him that they had abandoned their practice of propitiating Dholgyal.
There was full day teaching today with His Holiness responding to some questions before the afternoon session. Before the afternoon session, His Holiness had given some audiences.
The media has been reporting on His Holiness's program in New York City with headlines such as "Thousands Gather to Hear the Dalai Lama, New Yorkers listen to lecture on meditation and Buddhist way of life" (Voice of America); "No matter their religion, reverent fans of Dalai Lama extol his message of love" (New York Daily News); and "The Dalai Lama Packs Radio City Music Hall" (FOX News), etc.
On May 22, 2010, His Holiness will address the Tibetan community before resuming his teaching schedule. His address is being webcast live on www.tcnynj.org and begins from 8:00 am eastern time (5:30 pm in India and 8:00 pm in Tibet).