Ravangla, Sikkim, India, 21 December 2010 (tibet.net) - Expressing his concern over the impression of the declining standard of Tibetan language in the schools in exile, His Holiness the Dalai Lama called on the school teachers and students to take greater responsibility and put greater efforts in studying their language.

"Even though the Tibetan language is not that much useful in fields like business and legal studies, but its use is paramount in studying teachings of the Buddha (Kagyur) and commentaries (Tengyur) contained in more than 300 volumes," His Holiness said while addressing hundreds of Tibetans in Ravangla Tibetan settlement in Sikkim on last Saturday, 18 December.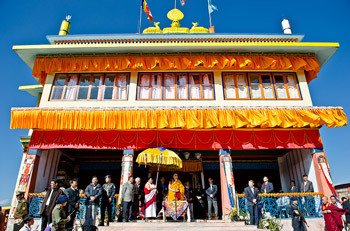 His Holiness the Dalai Lama addressing the Tibetan community of Ravangla, Sikkim, on December 18th, 2010. Photo/Tenzin Choejor/OHHDL
His Holiness said foreign Buddhist scholars are learning to read Tibetan language and they also read well because they are able to work hard. "Since Tibetan is our mother tongue, we are the ones who should preserve it. If the outsiders take so much interest in Tibetan language, we should of course treat it as a precious gem and preserve it," he added.
He commended the school's initiative towards educating the illiterate elder people in the settlement. "This kind of novel initiative has never appeared in the past work reports of the settlements, so you all have made an innovation," he added.
Underlining the importance of education, he said our experience proved that the tragic period we began to face in 1950s was the result of our inability to think about learning about changes happening in the outside world and how we could move with the changes. Such thoughts were never in our minds, nor did they occur or we thought about. Some Tibetans who returned to Tibet from pilgrimage in India spoke about great changes taking place there and some of them called on the Tibetan government to think about it. But the overall situation remained as usual, His Holiness added.
His Holiness spoke in detail about efforts made in establishing schools rather than monasteries after coming to exile in 1959. We considered the building of schools as the most important task. So we have achieved considerable progress in imparting modern education during the last fifty years as there is negligible number of illiterate Tibetans in exile and many of the new generation received the opportunity to go to schools irrespective of the level of standard they have attained. In this settlement, you all have done well enough in education and it is very important to educate elder people who are illiterate, he said.
Comparing with his earlier visit to the settlement, His Holiness said the settlement has made progress over the years, which he said is the result of determined efforts made by both the administration and general public. Despite prolonged period of being refugees, all of us have kept up our determination and done our best to make a change for better. So I would like say thank you all, he said.
His Holiness called on the staff members to work as servants of the people.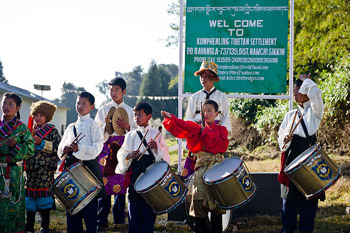 Tibetan students await the arrival of His Holiness the Dalai Lama at the Tibetan settlement in Ravangla, Sikkim, on December 18th, 2010. Photo/Tenzin Choejor/OHHDL
Earlier in the morning, His Holiness received a grand welcome reception on his arrival in the settlement. He was warmly welcomed by the chief secretary of the state government, secretary of religious department, legislative members and other dignitaries. Later as His Holiness arrived in the Tibetan settlement, Tibetan residents, including schoolchildren stood in long lines carrying ceremonial scarves (Khatak) to greet him as scent of burning juniper leaves pervaded the atmosphere. His Holiness also paid a visit to Nelung Monastery near Ravangla settlement which is under construction.
It was His Holiness the Dalai Lama's fifth visit to Ravangla, during the course of which over 3000 Tibetans and local people, including Sikkimese government ministers and secretaries attended his teachings and talks.