New Delhi, India, 23 November 2010 - His Holiness the Dalai Lama was today conferred the honorary degree of Doctor of Letters (Honoris Causa) by Jamia Millia Islamia, a prestigious national university at its annual convocation ceremony held on the lawns of Dr. M.A. Ansari auditorium on the university campus.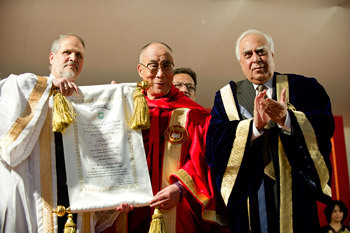 His Holiness is presented with an honorary Degree of Letters from Jamia Millia Islamia in New Delhi on November 23rd, 2010. Photo/Tenzin Choejor/OHHDL
The chief guest on the occasion, Mr. Kapil Sibal, Union Minister of Human Resource Development and Mr. Najeeb Jung, Vice Chancellor of Jamia Millia Islamia conferred the degree on His Holiness at a function attended by thousands of graduating students, faculty staff, and other eminent personalities.
The citation reads, "Jamia Millia Islamia honors His Holiness the Dalai Lama of Tibet, one of the most respected figures and teachers of our times, who stands for rationality, humanism, non-violence, peace and universal benevolence, with the degree of Doctor of Letters."
The citation further notes that His Holiness' "message of compassion, altruism and peace has made him a statesman of our troubled times," and adds that His Holiness "has led the Tibetan refugees in a remarkable success story where even after more than 50 years in exile, the [Tibetan] community has been able to retain its unique identity and remain welcome by their hosts."
In his remarks, His Holiness said he felt extremely honored to receive a Doctorate degree from a well-known Muslim university in India adding one of his two commitments is to promote religious harmony among different religious traditions. His Holiness said Islam is one the most important world religious traditions that provides hope and inspiration to millions of its followers.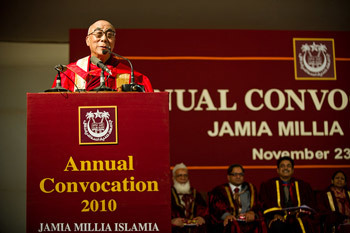 His Holiness the Dalai Lama addresses the Jamia Millia Islamia annual convocation in New Delhi on November 23rd, 2010. Photo/Tenzin Choejor/OHHDL
When the 9/11 incident happened in New York, he said he stood firmly in defence of Islam because he believed it was "absolutely wrong" to view all Muslims through the acts of a few mischievous people. "And a few mischievous people creating trouble is always there in any religious tradition whether Muslim, Hindu, or even Buddhists," His Holiness said.
In Lhasa, a small Muslim community who first came to Tibet as traders coexisted peacefully with the dominant Tibetan Buddhist community for centuries, His Holiness said. "There is no record of Muslims fighting with Tibetans in Lhasa."
Mr. Najeeb Jung, Vice Chancellor of the university in his annual convocation address called His Holiness "the true inheritor in the contemporary world of the message of peace and non-violence pioneered by Mahatma Gandhi."
Mr. Jung said His Holiness through his steadfast commitment to the power of non-violent persuasion has restored the world's faith in the relevance of moral critique. By his presence alone, Mr. Jung said, His Holiness has made India a better place.
"The presence of His Holiness reminds us that India is the birthplace of many great faiths and home to all of them. Great Buddhist teachers like Nagarjuna journeyed to Tibet in the 8th century to preach Buddhism and it is wholly appropriate that His Holiness should return to India to remind India of its Buddhist heritage and the rich diversity of its religious traditions," Mr. Jung said.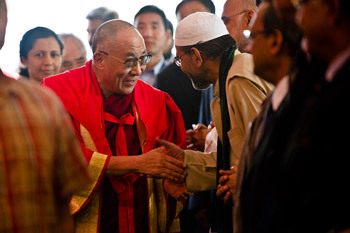 His Holiness the Dalai Lama stops to greet a member of the audience on his departure from Jamia Millia Islamia in New Delhi on November 23rd, 2010. Photo/Tenzin Choejor/OHHDL
Addressing the graduating students, the Vice Chancellor said, "It is a special moment that you step out in the world blessed by true Holiness, by an individual who embodies the best in humanism within a modern mind."
Union Minister Mr. Sibal in his address said in keeping with its secular traditions, Jamia Millia Islamia have chosen to honor His Holiness, a "noble soul who is the personification of the virtue of equanimity in pain and pleasure, being steadfast when changes around have been large and intense."
H. E. Prince Salman Bin Abdul Aziz of Saudi Arabia, Palestinian-American literary theorist and intellectual Edward Said, eminent Urdu writer Ismat Chugtai, and renowned scholar of classical Indian dance, art and architecture Dr. Kapila Vatsyana are some of the past recipients of the honorary degree of Doctor of Letters.
A total of 3,529 degrees and diplomas was awarded to students who have successfully completed post-graduation, graduation and diploma from different faculties, departments and centers of the university.
Established in 1920, Jamia Millia Islamia is historically counted as among the most important national institutions in India today. It is a pluralistic university closely linked to Muslim contributions in India's struggle for nationhood.