Hiroshima, Japan, 14 November 2010 - On a grey and chilly morning, His Holiness began the penultimate day of this year's autumn tour in Japan by traveling to the Hiroshima Peace Memorial along with his five fellow Nobel laureates, F.W. de Klerk, Mairead Corrigan Maguire, Mohamed ElBaradei, Jody Williams and Dr. Shirin Ebadi. With crowds lining the walkway and filling seats in front of the memorial, the six Nobel Peace Prize winners walked to the cenotaph of what President de Klerk called "a sacred place" and offered their flowers and their prayers. "Every citizen in every part of the world," said the co-chair of the Summit, Walter Veltroni, "feels like a citizen of Hiroshima."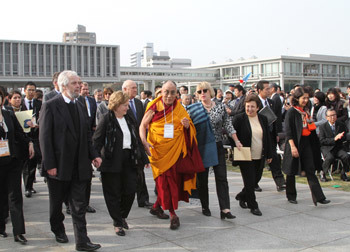 The Nobel Laureates arriving at the Hiroshima Memorial Park on the third day of the 11th World Summit of Nobel Peace Laureates on November 14th, 2010. Photo/Taikan Usui
It was already an auspicious day for Nobel Peace laureates, since Aung San Suu Kyi in Burma was released from house arrest after more than seven years of virtual imprisonment. And as the sun came through the clouds above the rebuilt city, each of the laureates in turn came up to a podium, an eternal flame burning behind, and spoke of a commitment to peace and liberation from nuclear weapons. The last of the six to speak, His Holiness talked about how the "spirit and message of Hiroshima and Nagasaki" had moved him ever since his first visit, more than forty years before, and expressed the hope that that spirit "reached every part of the world.


"The past is past; we must look forward," he continued, in sharing his admiration for the forgiveness embodied in both cities, and in the Japanese and German people he had spoken to who had no bad feelings towards the nations that had bombed them. "Using force is outdated," His Holiness said. "Some nearly seven billion people should know that."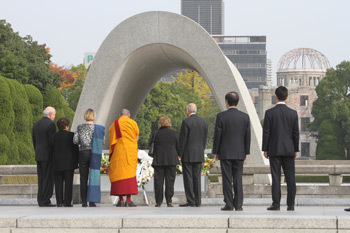 The Nobel Laureates paying respect at the Hiroshima Peace Memorial on November 14th, 2010. Photo/Taikan Usui
Finally, His Holiness declared, with transparent conviction, "I want to appeal from this site to various leaders of different religious traditions: all major religions talk about compassion, forgiveness, love. So, please, religious leaders, take a more active role! Not just praying in your church or temple, but coming out and doing something to promote their values." Scientists, too, should speak out, he said, since they know fully the horrors that nuclear weapons can have. Even businessmen stand to gain from thinking about what effects nuclear weapons can have on their livelihoods as well as their lives.
"Ultimately, people have the power to change the world," he emphasized. "Each of us has the potential to make some contribution to the people's movement." And in the latter part of the 20th century, change came not from governments, often, but from real people. "I believe that action is the final decision-maker," he concluded.
After he sat down, the Mayor of Hiroshima spoke of how "human beings and nuclear weapons cannot coexist indefinitely." The Governor of Hiroshima spoke. Then the Summit presented its annual award for humanitarian work to Roberto Baggio, the former Italian soccer star who has worked tirelessly on behalf of earthquake victims in Haiti and freedom for Aung San Suu Kyi. It gave its special award to the Japanese Cofederation of Atomic Hydrogen Bomb Sufferers, and a 85 year-old man, full of vigor and spirit, came up to speak about how he had endured two bouts of cancer, many assaults on his system and the atom bomb itself. Then Jody Williams read the charter that His Holiness and other of the laureates had signed, calling for the elimination of all nuclear weapons.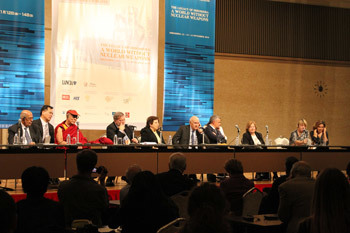 Meeting with the press at the conclusion of the 11th World Summit of Nobel Peace Laureates in Hiroshima, Japan, on November 14th, 2010. Photo/Taikan Usui
Asked at a brief press conference in the Memorial Hall about Liu Xiaobo, the 2010 Nobel Peace laureate still being held in Chinese prison, His Holiness explained, "Actually, I am a Marxist. Of course a Buddhist at the same time. But insofar as socio-economic theory is concerned, I am a Marxist." Since 1956, however, Communism in China had often created a culture of hardship and suspicion. So he was glad that the Nobel Committeee had rewarded Liu, and thousands of other Chinese, who are promoting "more openness, more liberalization."
As he was walking out of the auditorium, he was thronged by reporters and cameramen asking how he felt about the release of Aung San Suu Kyi. His simple answer: "I'm overjoyed!"