Nagano, Japan, 21 June 2010 (By Tsering Tsomo, phayul.com) - A spiritual connection established over 4 decades ago between Japanese and Tibetan Buddhists came full circle when His Holiness the Dalai Lama paid a visit to a Buddhist stupa located on the premises of Saizo Hokyoin Tou temple this morning.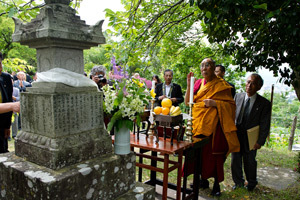 His Holiness the Dalai Lama at the Saizo Hokyoin Tou stupa in Nagano, Japan. Photo/Tenzin Choejor/OHHDL
In 1964, when war-ravaged Japan was in the midst of reconstruction work, a group of four Japanese and Tibetan Buddhists - Khetsun Sangpo Rinpoche, Tokan Tada, Tsering Dolma Tsarong and Sonam Gyatso - built a World Peace stupa to underscore the futility of violence and hatred. Khetsun Sangpo Rinpoche was a highly realised Tibetan spiritual master trained in all four traditions of Tibetan Buddhism who taught Buddhism in Japan for ten years. Tokan Tada spent ten years studying Buddhism in Tibet.
Nine elderly members of the Hosang Kai group looked on with an expression of bliss and fulfillment as His Holiness tied a white khata - traditional Tibetan ceremonial scarf - around the stupa and held a brief prayer to bless it. The 80-member strong group, brought together by their passionate belief in peace, has been holding prayers and taking care of the stupa for 46 years. All residents of Nagano Prefecture, they have been visiting the Tibetan stupa every year in May to weed out overgrown foliage and do periodic repairs.
Nakamura Hideksugu, a member of the group said His Holiness' visit has touched his heart and provided encouragement for the group's commitment to world peace. The 79-yr-old retired school teacher was a friend of Shozo Okuda, the late principal of the Tokyo-based Seikei Gakuen private school who also took an important role in constructing the stupa. Okuda is fondly remembered by Nagano people for his tireless work in promoting equal opportunity for women in school education.
The stupa's "spiritual secret", as Hideksugu calls it, was revealed beyond the confines of Hosang Kai in 2008 when officials at Zenkoji Temple learned about its existence and contacted the group. Mr Lhakpa Tshoko, representative of His Holiness for East Asia, also visited the monument in 2009.
"I feel a deep spiritual connection with the Tibetan people now that His Holiness has blessed the stupa," Hideksugu said. "Hosang Kai shares a common bond with His Holiness because we heard him fervently appeal for world peace at yesterday's public talk in Nagano."