Dharamsala, India, 5 October, 2010 - Around 5,000 Buddhist followers from 57 countries, including over 1,300 Chinese Buddhists from Taiwan, are attending a four-day discourse of His Holiness the Dalai Lama at the main temple in Dharamsala. The teaching began on Monday October 4th and goes on until October 7th.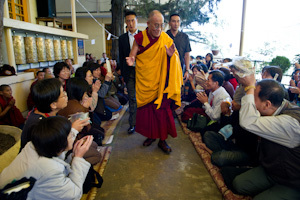 His Holiness greets members of the audience as he arrives at the MainTemple on October 5th, 2010. Photo/Tenzin Choejor/OHHDL
His Holiness is teaching on Nagarjuna's The Fundamental Wisdom Treatise on the Middle Way (uma tsawai sherab), Atisha's Lamp for the Path to Enlightenment (jangchup lamdron), Tsongkhapa's In Praise of Dependent Origination (tendrel toepa) & Tsongkhapa's Concise Stages for the Path to Enlightenment (lamrim dudon). The teachings were requested by a group of Taiwanese Buddhists.
In his introductory address, His Holiness spoke about how to remove three negative human afflictions and to cultivate positive motivation to serve the well-being of others.
The teaching is translated into English, Chinese, Japanese, Korean and Vietnamese and is available as a live webcast from
http://dalailama.com/liveweb
.