Gangtok, Sikkim, India, 24 December 2010 (tibet.net) - The people and government of Sikkim jointly organised a long life prayer ceremony in honour of His Holiness the Dalai Lama's eight-day visit to the northeastern Indian state.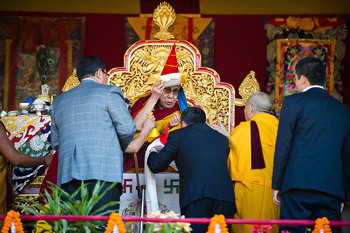 Offerings by the Chief Minister Dr. Pawan Kumar Chamling during the teachings of His Holiness the Dalai Lama in Gangtok, Sikkim, on December 22nd, 2010. Photo/Tenzin Choejor/OHHDL
Over 25,000 devotees, including top government functionaries led by chief minister of the state, attended the long life prayer ceremony in the capital Gangtok on Wednesday


Chief Minister Dr Pawan Kumar Chamling and secretary of department of religion and culture, Tsechogling Rinpoche presented Mendel Tensum and other auspicious offerings to His Holiness the Dalai Lama during the ceremony.
Later in the afternoon, His Holiness the Dalai Lama graced the concluding session of the three-day international conference on science, spirituality and education.


His Holiness the Dalai Lama spoke about the importance of bringing changes in teaching methods in the education system, which he said has drawbacks and of introducing a curriculum on human ethics in schools.
"I usually share my ideas with experts and scholars that we need more research work towards bringing something which the present education is lacking. Every nation have education system which put emphasis on keeping their own unique national identity, which is in today's reality is out of date. Today, we must teach people about the concept of my world and our world," His Holiness said.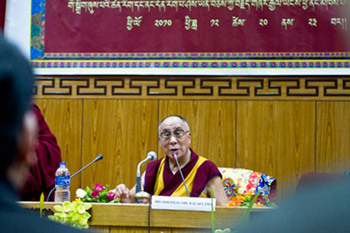 His Holiness the Dalai Lama speaking at the Conference for Science, Spirituality and Education in Gangtok, Sikkim, on December 22nd, 2010. Photo/Tenzin Choejor/OHHDL
His Holiness underlined the utilisation of human intelligence in developing human ethics through scientific research. "Moral ethic should become a universal concept based on the scientific findings. Emotions developed through training are more reasonable and logical than the spontaneous emotions which are common even in animals also. Emotions based on reason or research can be done only human beings. So let us make serious discussion among concerned people on human ethics and come out with clear presentation of their findings for implementation in different schools. If there is benefit and positive results after the implementation, then spread it wider," he added.
Speaking of the role of teachers, His Holiness said affection can not be demonstrated by words but rather by action. "If teachers talk about compassion and do something rude then students would consider them as hypocrites. So, teachers must introduce compassion through action, attitude and sincere motivation. Therefore, teacher training is very important," he said.
"When we talk about universal moral education, we should not touch any religion because it could bring complications. So it should be purely secular," he added.
His Holiness expressed his appreciation to the state government for making best arrangement during his visit. "I really enjoyed my meeting with the people, making pilgrimage to different places in Sikkim. The chief minister personally took special care in making the arrangement which I really appreciate. I feel my visit was meaningful and hope that I may have made some contribution for the well being of the Sikkimese people."
His Holiness described Sikkim as an important state due to its strategic location. "I usually tell my Indian friends that Tibetan Buddhist culture and the Tibetan Buddhist faith are something like the first defense line of India. Within India, the whole northern Himalayan region have strong Buddhist faith and Buddhist culture, which form one defense line. I jokingly tell my Indian friends that my visit here is strengthening the defense line of India," he said.