Dharamsala, HP, india, 2 March 2010 (phayul.com) - The Tibetan Government-in-Exile offered a Tenshug (long-life prayer offering) ceremony for His Holiness the Dalai Lama here this morning as a collective expression of gratitude and reverence for his leadership. His Eminence Sakya Trizin, head of the Sakya tradition of Tibetan Buddhism conducted the ceremony that lasted for over three hours.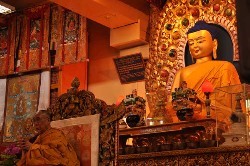 His Holiness the Dalai Lama attends the long-life offering ceremony at Tsuglakhang temple, March 2, 2010 (phayul photo - Kalsang Rinchen)
The ceremony was attended by Tibetan lamas, the Tibetan Prime Minister Prof. Samdhong Rinpoche and his cabinet members, speaker and deputy speaker of the Tibetan Parliament in Exile, heads of the autonomous bodies and other officials of the Tibetan government.
Nechung and Gadhong, the two state oracles of Tibet, and Tsering Che-nga made brief appearances at the ceremony and sought blessings of His Holiness the Dalai Lama.
In his brief address to thousands of Tibetan people following the prayer ceremony, the 74-year old exiled Tibetan leader thanked the Tibetan government for offering prayers for his long life.
Today's ceremony is the second and the conclusive official long-life offering ceremony between March 10, 2009 and March 10, 2010, planned by the exile Tibetan government for a year's dedication to 50 years of exile.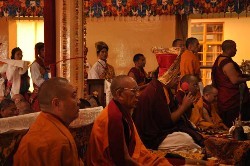 (from l to r) Shechen Rabjam Rinpoche, Gaden Tripa, Sakya Trizin, Karmapa Rinpoche and Taklung Matrul Rinpoche (phayul photo - Kalsang Rinchen)
His Holiness expressed his condolences for the families of Tibetans who had lost their lives under Chinese rule, and offered prayers for those still languishing in jails around Tibet and China.
Tibetans believe conducting long life prayer offerings will clear the obstructions in one's life, thereby advancing one's continued well-being.

Considered the living embodiment of Chenrezig, the Bodhisattva of compassion, the Dalai Lama is revered by Tibetan people as both the spiritual and political leader of Tibet.