Jodhpur, Rajasthan, India, 10 February 2011 (By Ajay Parmar, TNN) - Terming China as a communist nation without communist ideology, Tibetan spiritual leader the Dalai Lama said that China urgently needs political liberalisation.

Reiterating his demand for autonomy for Tibet, he, however, expressed concern that the Tibetan culture, values, lifestyle, language, traditions and customs are fast being suppressed by China, which is imposing its own culture in the region.

The Dalai Lama was speaking at a lecture on Nalanda Thought: India's Ancient Treasure' hosted by Aravali Institute of Management here on Wednesday. He also replied to questions of the students ranging from education to politics.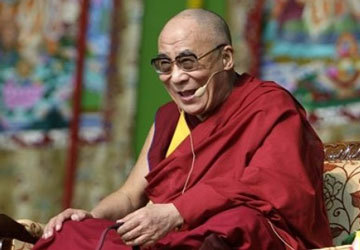 "Today, Tibet needs economic development and for which we cannot afford to be an independent land. But Chinese policies are against us which is not acceptable to us," he said

He signaled about his retirement soon, saying, "I am at the fag end of my mission." Replying to a question, he also advocated permanent seat for India in the UN Security Council and that too with veto power, saying India is the most deserving nation for the status.
Addressing the students, he described them as the agents of change of the 21 century, who have the responsibility to ensure global peace through action (Karma) and called upon them to work with a vision along the principals of ahimsa to make this century a century of peace.

He also advocated dialogue as the best tool to resolve national and international problems. He also urged students to be concerned about and active in protecting earth from environmental degradation.

He advised them to have a realistic vision governed by knowledge and have unbiased compassion, which he said, are lacking miserably in pursuit of materialistic pleasures. He also emphasized values like cooperation, trust, harmony, tolerance, friendship, moral ethics and on top of all human values, warmheartedness.

Talking about the Nalanda university's education system, he stressed that the country needs to revive that system in the benefit of the humanity. He described the Tibetans as the disciples of India and termed Tibetan tradition a true lineage of Nalanda education system. "We are proud to have that system intact. But, unfortunately, India, our guru, could not preserve the Nalanda tradition, a truly pluralistic system based on experiments, logic and investigation and not on mere quotations," he said.
Referring to the present education system, he said it is devoid of moral ethics. "But now there is a growing concern in many countries about making education as an inculcator of moral ethics based on secular harmony," he said.

Later, he also addressed the students of Rajmata Krishan Kumari Girls School and emphasized on women's education terming it as important.