Dharamsala, HP, India, 18 May 2011 (by Kalsang Rinchen, phayul.com) - Former deputy Prime Minister of India and senior Bharatiya Janta Party leader Lal Krishna Advani Wednesday called on the Tibetan leader His Holiness the Dalai Lama at the latter's residence here.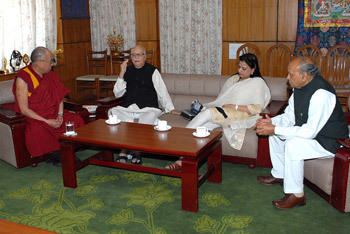 Former Deputy Prime Minister LK Advani and his daughter along with HP Chief Minister Prof. Prem Kumar meet with His Holiness the Dalai Lama in Dharamsala on May 18, 2011. Photo/OHHDL
The two met over a luncheon reception hosted by the Tibetan leader at his residence. Advani was accompanied by his daughter and Himachal Pradesh Chief Minister Prof. Prem Kumar Dhumal.
Talking to reporters after the meeting, Advani said he had come to Dharamsala on the invitation of the Himachal Pradesh Cricket Association to watch the IPL game between Kings XI Punjab and Royal Challengers Bangalore yesterday. "I had told His Holiness in our previous meetings that I would meet him in his hometown Dharamshala. And when I got the invitation for the cricket match, I thought why not meet His Holiness as well as enjoy the game".
Asked about issues discussed with His Holiness during the meeting, Advani said, "I tried to find out from him (His Holiness the Dalai Lama) about any change in China's position on Tibet and he said there has not been any change until now but hoped there would be."
The Tibetan leader also met with the team and operational staff of the Kings XI Punjab at the Tsuklakhang courtyard after meeting with Advani. His Holiness apologized for being unable to attend the match yesterday despite being invited as he had just returned from a long trip to the US. "I could not come yesterday as my sleeping time is 7.30PM, but I will be there for the match on May 21 as it is a day match starting at 4PM," said the Tibetan leader who recently announced his decision to devolve his powers to an elected leader.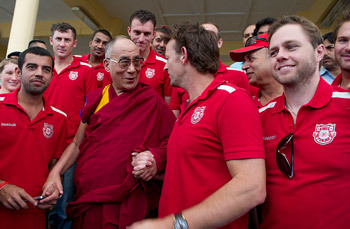 His Holiness the Dalai Lama with members of the Kings XI Punjab IPL cricket team in Dharamsala on May 18, 2011. Photo/Tenzin Choejor/OHHDL
His Holiness said his knowledge about sports is zero but he wants to share the joy and the love for cricket in India. "Last time when we were watching the game, I asked CM Dhumal who were winning and who were losing," said His Holiness with a chuckle.
Speaking on religious harmony, His Holiness said India is a home to several religions existing in harmony though there are some pockets of violence here and there. "My brain is filled with thoughts from the ancient school of Nalanda, and my body feeds on Indian chapati, rice and dal," the Tibetan leader said justifying his statement that he is a son of India.