Dublin, Ireland, 12 April 2011 (by Maeve Connolly) - His Holiness the Dalai Lama has arrived in the Republic of Ireland to begin a two-day visit that will see him meet and address thousands of people at events in Dublin, Kildare and Limerick.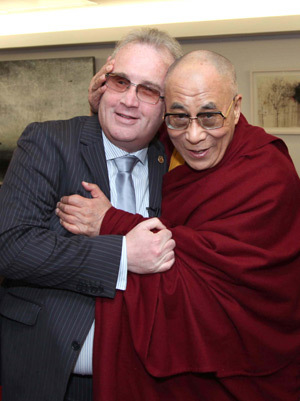 His Holiness the Dalai Lama is met by Richard Moore on his arrival at Dublin airport on April 12th, 2011. Photo/Speirs
He flew into Dublin Tuesday where he was met by Richard Moore of the charity Children in Crossfire.
The Dalai Lama is the patron of the charity which helps children in developing countries and a friend of Mr Moore who he describes as "my hero".
It is his third trip to the Republic of Ireland although his last visit was 20 years ago and on his arrival at Dublin Airport yesterday he was shown a photograph that was taken at the same point in 1991.
The Tibetan Buddhist leader's response was hearty laughter and to ask whether he had changed.
"You're younger," Mr Moore quipped to which the Dalai Lama replied "The only change is new glasses".
He was invited on this occasion by Mr Moore and he appeared delighted to see his friend again.
The 76-year-old exiled head of state is taking part in the Possibilities 2011 social change summit in Dublin today (WED) where he will speak about universal responsibility.
Possibilities has been organised by three Irish charities, Children in Crossfire, Afri and Spunout.ie, who want people to get involved in bringing about change at home and further afield. Two thousand people are due to attend the day-long conference.
Former UN High Commissioner for Human Rights and former President of Ireland Mary Robinson is also participating in the event along with a host of musicians, poets, performers and speakers.
Afterwards the Dalai Lama will travel to Kildare to speak in St Brigid's Catholic Church about the spirituality of compassion.
On Thursday the Nobel Peace Prize laureate will address an audience at the University of Limerick on the power of forgiveness.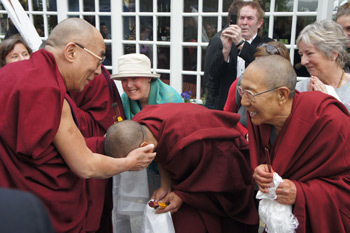 His Holiness the Dalai Lama greeting well-wishers on his arrival at his hotel in Dublin, Ireland, on April 12th, 2011.
Photo/Tenzin Taklha/OHHDL
A small crowd had gathered at the Dalai Lama's hotel to greet him yesterday and among them were some Tibetan families resident in Ireland as well as Buddhist monks and a nun who held burning sticks of incense and other gifts of welcome.
There are less than 20 Tibetan refugees living in Ireland and many had brought their children to be in the Dalai Lama's presence and he greeted them warmly, blessing a small child and gently touching the heads of the religious.
Among those who had come to see their spiritual leader was Tenzin Choeden (originally Marjorie Cross from England, but now a resident of Ireland) who has been a Buddhist for almost 35 years.
The Dalai Lama ordained the nun 13 years ago in Dharamsala and she said it was "so special" to have him on Irish soil.
"He has a totally open heart, he embodies compassion," she said.
Tenzin Choeden said she was drawn to Buddhism more than three decades ago because it is "very much based on love and compassion and how to develop that in a broader way".
Aritcle by Maeve Connolly